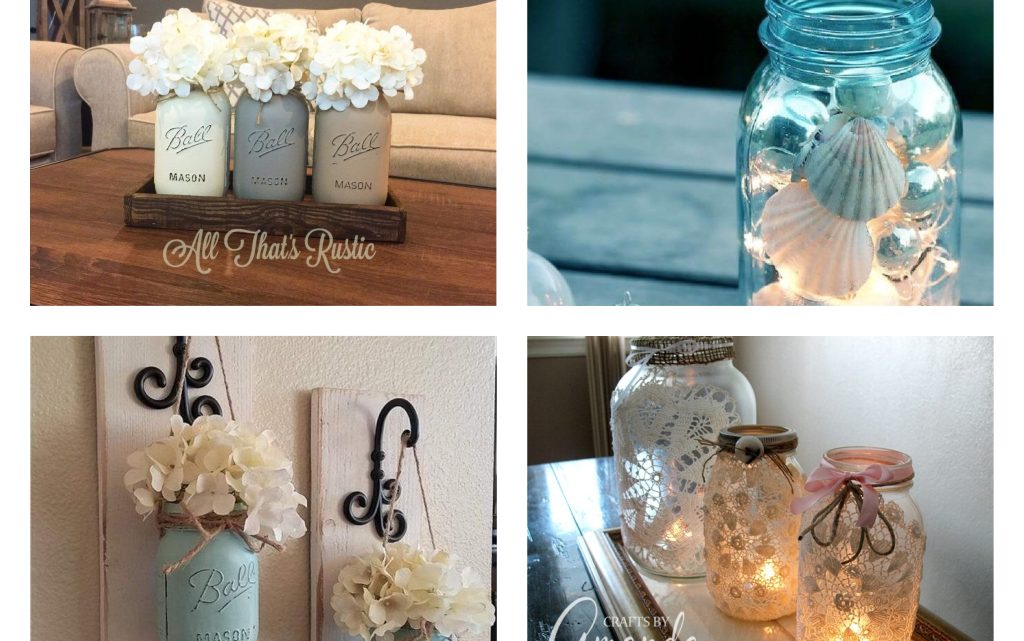 Try to Make These Mason Jar Crafts
We all have mason jars at home place, but we have never thought to reuse it and to make some crafts. That's why we are here to give you useful information about how to make the best mason jar crafts. Go through the photos, check the instructions on the link below every photo and learn how to make these lovely mason jar project.
Make your life easier with these amazing jars that you will use as a storage idea, as a flower vase, as a lighting and many more ideas. Read on and inspire yourself and if you have an extra time, please also read about:
The cutest pineapple home decor
Lovely flower vases of painted mason jars
The first idea of our post is about how to make flower vases for tabletop setting and to save money. Not just to save money but also to have a modern and lovely home interior, you can make flower vases of old mason jars that you don't need anymore. All you need to do is to clean the jars, to paint it and to add flowers in it.
Indoor lighting of mason jars and crochet
The second idea of this post is about how to reuse the table crochet that we have left from our grandmothers. Take mason jars, clean it carefully, and then apply the crochet on the outdoor side of the jars. In the indoor of the jar add candles and create indoor romantic lighting that you can add it in the living room or in an entryway hall.
Seashells in a mason jar idea
Bring the summer in your home palce, even though the weather outside is cold. Add the seashells that you have collected this summer, in an empty mason jar and creata e fabulous decorative element.
Use mason jars for storage
Perfect idea for storage to the pencils and pencil colours and every other school stuff. Reuse the old mason jars for smart storage to the things you have at home.
Hanging mason jar vases for home decor
Make the best wallflower vases of jars. Take a look in this idea that is fantastic.
Mason jars and rope outdoor lighting
Use jars and rope for creating the best outdoor lighting. Check this idea.
Mason jar crafts – aquarium
You can have an aquarium in a mason jar, can you believe in that? Also read about adding aquarium in the home place.
Mason jars chandelier, do it yourself idea
Interesting mason jars chandelier for an indoor place that you can make in your free time.
Terrarium in a jar, do it yourself project
And the last idea is about how to create the small terrarium in a glass or if you prefer you can create a small garden in a mason jar of glass. Whatever you choose you will create an interesting decoration for home place. thanks for reading this!