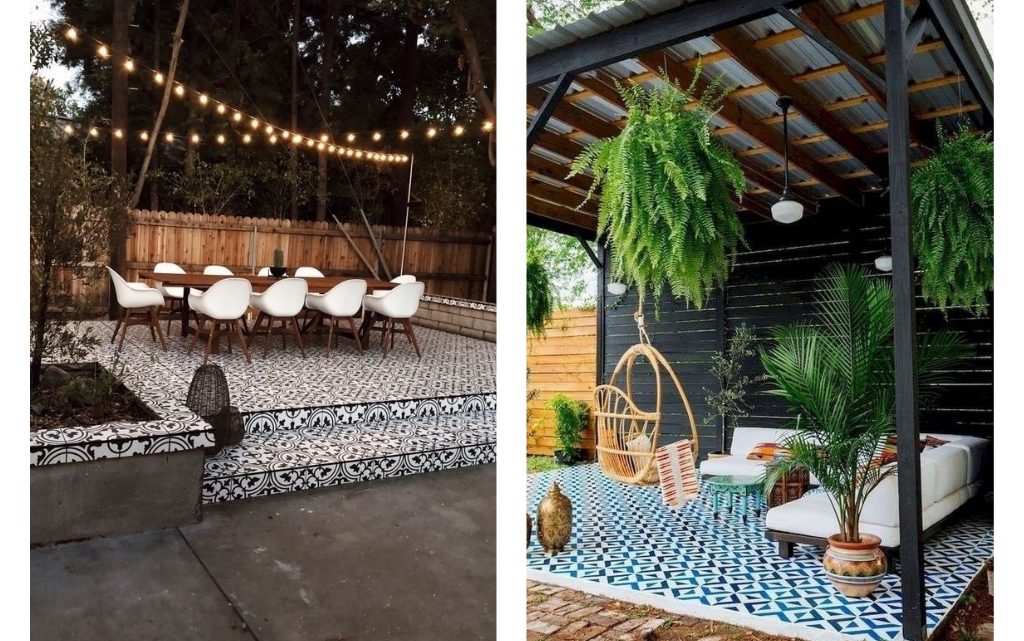 Stunning Backyard Designs for People Who Knows What They Want
Every day is a special day with you dear friends! Stunning backyard designs for people who know what they want is the topic of today's post and I invite you to be our follower.
Yard place is one of the most visited places after the living room indoors where we spend more time during the winter period. But, during the summer period, we don't need indoors place and design but we need outdoor place worth staying in it. We need to pay attention to yard place, to choose the best sofa for sitting, to choose modern hidden lights and love the decor!!!
Hiden lights and black and white tiles for the flooring in outdoors
In the first photo we can see hidden lights, for the flooring you can choose black and white-colored tiles and to add a wooden table that you can use as a dining table. Take a look in the photo now to find motivation.
Add modern white sofa and swinging chair in the yard place
In the second photo, we can see a white sofa, modern tiles flooring, and swinging chair. You can use this place to sit here to read favorite book or simply to drink your favorite coffee.
Wooden pergola with roof for the yard place
In the third idea, you can see the yard place where pergola plays an important role and it's covered it looks so nice. I invite you to take a look at it and to find some idea for your outdoor place!!!
Adding a fireplace and modern sofa in the yard is a great idea
The very nice idea is to add a fireplace in an outdoor place and also to keep the modern sofa here. With a design like this, you will have the place perfect to sit here and spending time with family and friends…
Hidden lights and covered pergola for the yard place
We started this post with hidden lights and tiles flooring and we will end up with the same yard but this time is seen by another perspective. Take a look in this photo too and we will finish this post now, I really hope that you found some idea for your own yard place!!!
Also, read about The Benefits of Temporary Workshops That Professionals Should Know the post that we recently shared on our page. Thanks for the time and attention you spent with us!