One Bedroom Apartments – 3D Floor Plans
Nowadays, living in modern society isn't an easy task at all. It is hard to find understanding with the mother in law, father in law, sister in law, brother in law. etc. ( there are many people that are strange for you when you get married). This is why, many young couples decide to leave alone, to buy own apartment, small or large, depending on the place and the money that they can spend for this aim. If they don't bring this decision their marriage can end soon so many of us try to find some 3D floor plan and to make some plans for the future home.
For one young couple, one bedroom apartments are a cool idea and these 3D floor plans are exactly with this idea. Why don't you spend time to see it?
One bedroom 3 D floor plan apartment
In the first arrange plan as you can see, there is a perfect organization of the rooms. Quite enough place for the living room. Opposite of it is the bedroom, there we have small batrhoom and kitchen. A place for everything and a happy home with a happy family! Just see the idea now!!!
3D house plan with much more space for the living room
In the second plan there is large living room and open area, one small bedroom, one large kitchen that is attached to the living room. What is smart here is that the space we need larger is exactly the living area and not the bedroom where we only just sleep.
House plan in 3D with one bedroom
With one bedroom we can be happy if we have an organization of the rooms in a perfect way. In a way like this, we will be happy and satisfied with the decor. Spend some time and see this plan. Make nice plan for the future home and place for living in.
Imagine having this house plan
This house plan is nice and there is also a good idea that I really like it. space is left for the living room and kitchen where we spend most of the time we have. For the bedroom, there is a small space and for the bath too.
One bedroom floor plan apartment design again
With this photo and design at the same time, we will put the END of this post and our company will end here. As you can see there is a large living room, the bedroom is also large and the same for the bathroom is little but it's a functional place.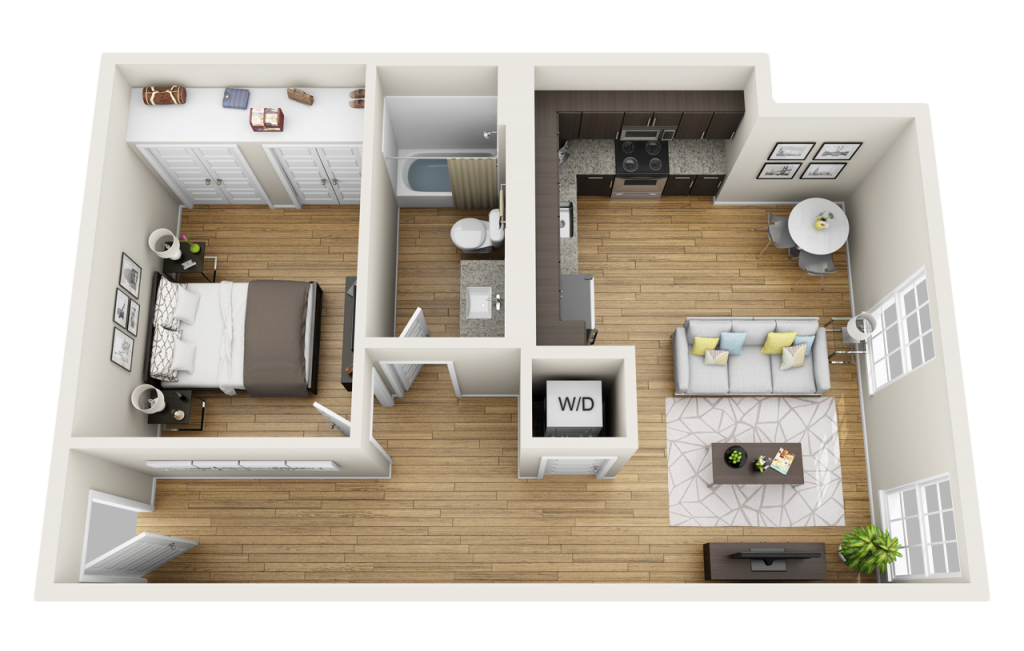 I hope that these plans are nice and helped you to find some nice idea for your house place. Keep following our page in the future to also read other useful posts. Also read about magnificent interior in one small wooden cottage, thanks if you follow my advice.