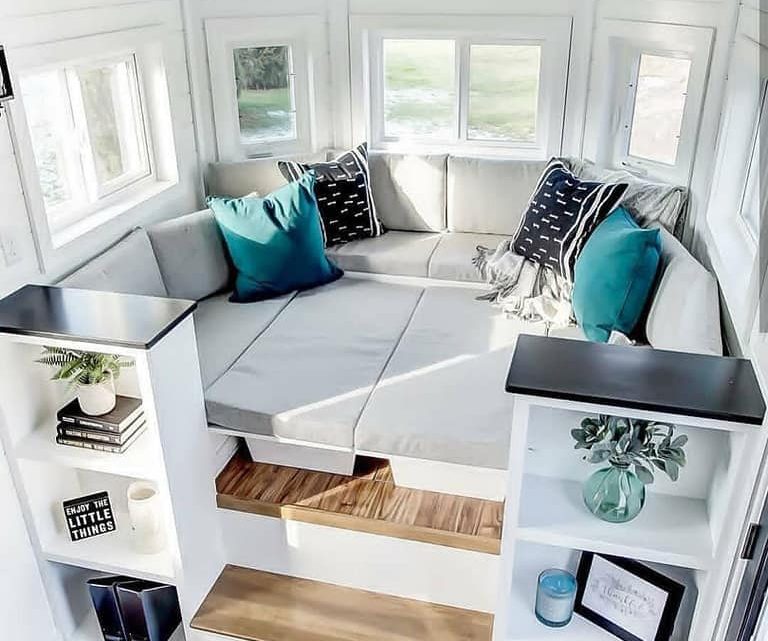 Great Saving Space in Interiors
Hello there friends. This post is about great saving space in interior place that will help those who live in a small appartment and house. I believe is hard to live in small place but however we must learn how o save on space.
To save on space there are a million ideas and here our ideas are about how to save space on the bed. If you choose an amazing bed you will be a smart person and you will live largely in this place. You can have shelves around, under the bed you can also have shelves and here to storage all the clothes you have. In this way, you will have under the bed wardrobe, sofa and daybed during the day, shelves to add here the things you need. Also, you will have a large bed for sleeping on it and a lovely bedroom. Now, take a look in the first photo from this post.
As you can see there are shelves under the bed where you can organize all your clothes you have here. I really love this bed and hope you will find some idea for your small home.
And here in the third photo you can see how the bed looks when is bedroom and sleeping room. Pay some attention to this photo and decide which bed is perfect for your home or share it with friends who need this bed and are living in small apartment.
Also, take a look in the photo now and see that there is also place under the floor where you can add your winter clothes or summer clothes. Or, here to add some blanket. Try to find some motivation in the photo now and also see the next photo.
In the last photo we can see a small attic room where the bedroom is on the second floor. This is an example of how to save space at home and to live large in small house place. With this photo, we will finish this post and we hope you already found some idea for your small home place.
At the end of the post like always we will thank you for your attention and will invite you to be our follower in the near future and read our posts. By the way, if you are interested in C U R T A I N S design and style, check this link that will take you there.