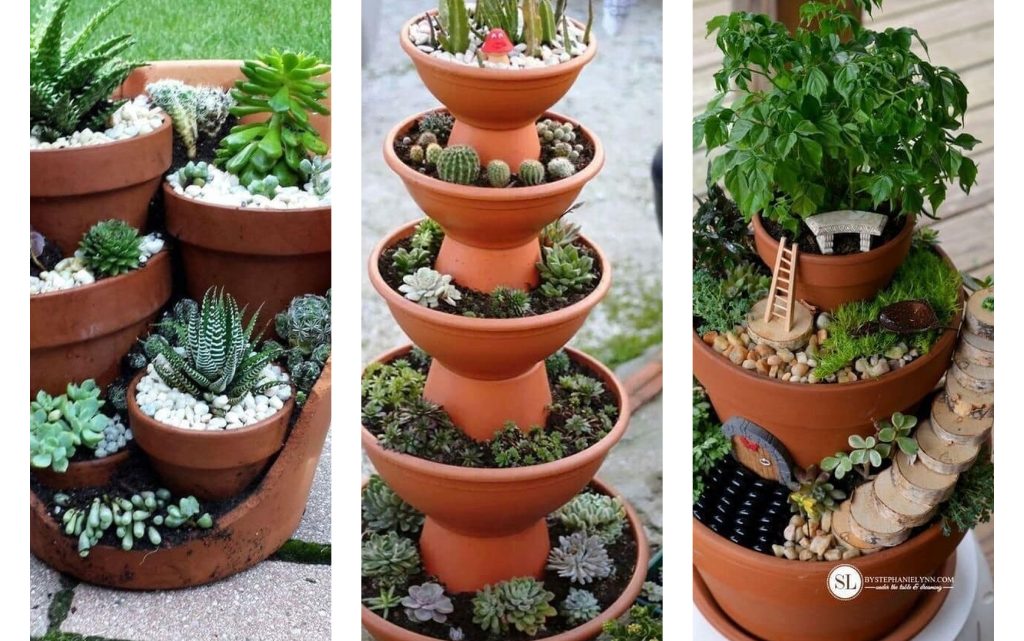 Flower Pot Mini Garden
If you live in an apartment, you know that is hard for finding a place in outdoors for growing the flowers and plants. This is why you need flower pots that will help you to create a mini garden and exactly these ideas we will show you hereinafter.
In the following, you will see how to make perfect reuse of broken flower pots, how to make tower by flower pots and to plant here all the flowers you have at home. Find motivation and be a creative person. It's never too late to start being a creative person and try to make a mini garden! Gardening will extend your life so start right now with this job and hobby!
Growing succulents in broken flower pot – perfect idea for mini garden
In the first idea, we offer you how to grow succulents in broken flower pots and to have a small garden that you will love with all your heart. Come on, see this design and try to make some of these flower pots designs for your outdoor place.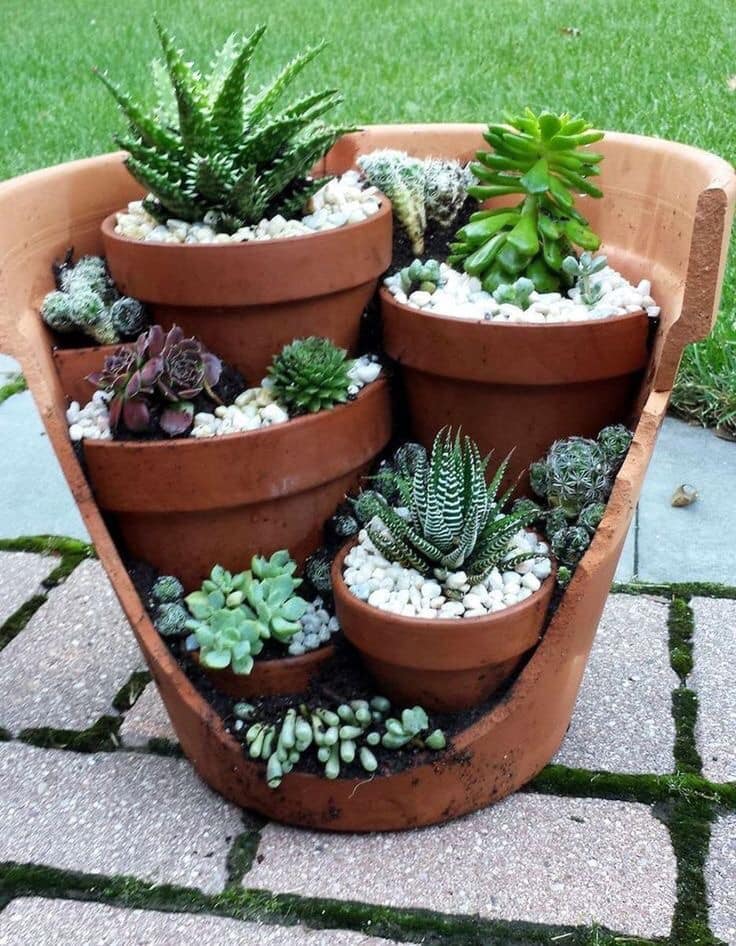 Flower pot river with stones – spilled flower pots
Spilled flower pots with stones and old jar reuse can help you in creating nice outdoor decoration. Take a look in this photo and find idea for your garden place. Be creative person!!!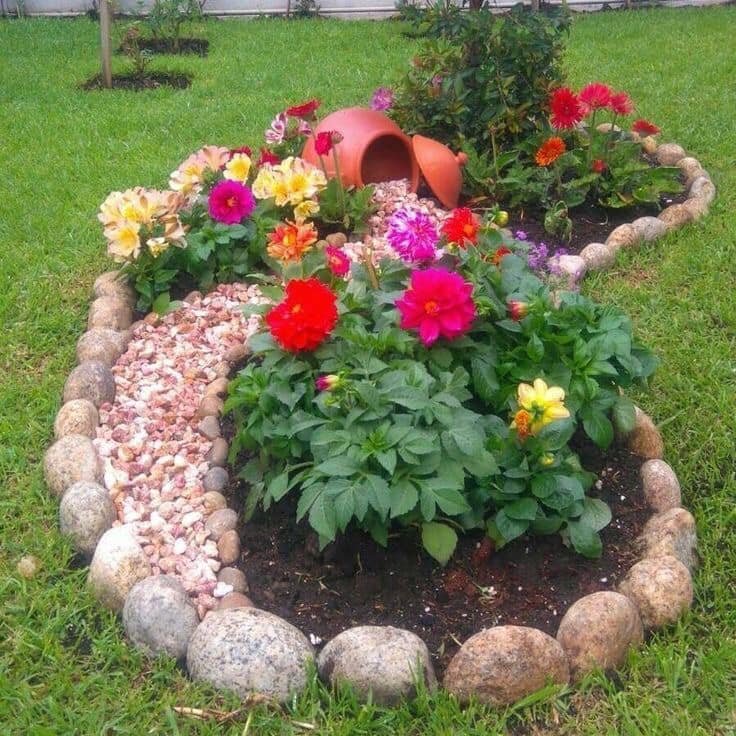 Build tower by reusing the old flower pots
You can add different sizes of pots and you can make a tower by using super glue and here to plant the flowers and plants you have. I invite you to see this idea and to try to make this for your outdoor place.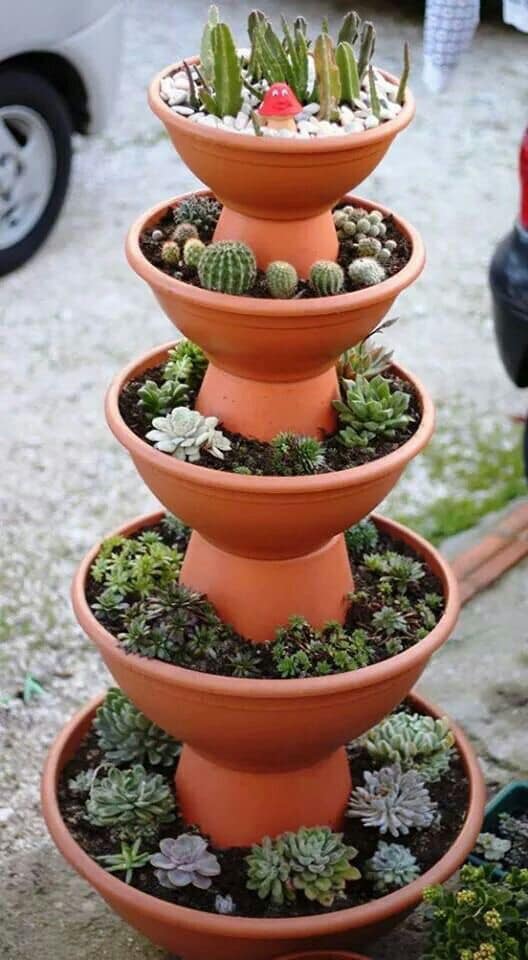 Use the flower pots for planting here the flowers you adore
All the flowers can be planted in small and nice flower pots and here you can complete the decor with wood slices and with this to have a nice design. Take a look at this photo and find motivation for your house place or outdoors.
Tower made from flower pots
One cool and nice idea is to make a tower by using flower pots and here to plant your favorite flower. Let this idea be your inspiration and motivation and try to make this mini gardening for your balcony place.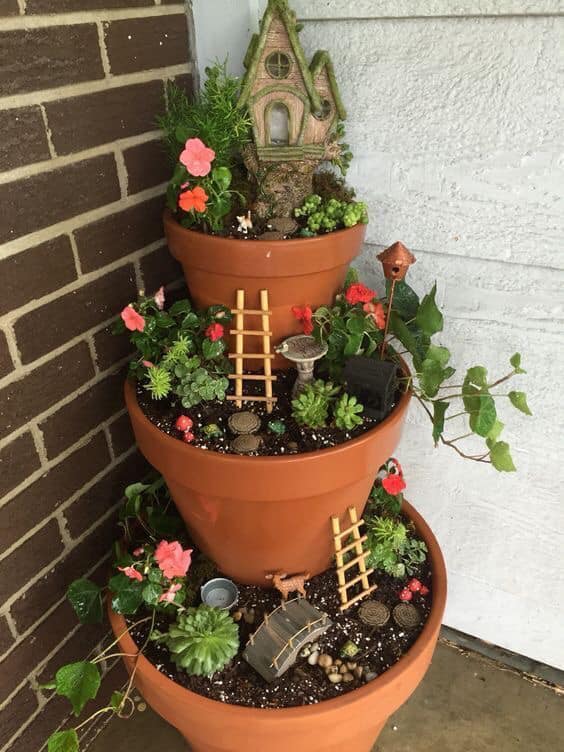 Perfect reuse of the old broken flower pots
Take a look in this design and see how to add stones in the pot, how to plant lovely flowers and to take care of the design. With combinations of green trees and tree stump, you will have the best decorative element and garden, little but nice.
Also, read our last post that was about creativity in wood reuse where you will find some idea for interior design where the wood is used. Thanks so much for your attention and keep following our page to see more ideas!!