Elegant Home Kitchen Bar
Every kitchen needs a bar and we all need this bar at home. we need it for having breakfast there, to drink coffee while our partner is cooking which is the favourite part of the day. Amaze yourself in these kitchen bar ideas and choose one to be part of your home place and favorite place for eating!
Have fun and read about epic interior design fails that will make you wonder if this architects really have a degree.
Elegant kitchen bar with hidden island lighting
Island lighting and kitchen backsplash lighting is good idea and kitchen bar is also good idea for saving space at home. Here, you can have breakfast with your family or alone, to drink coffee while you are waiting for the lunch.
Modern home kitchen bar with interesting chairs
Adding interesting chairs next to the kitchen bar at home will completely change the room in positive way. Get impression from this photo which is amazing and by the way share it with friends.
Yellow kitchen cabinet with home bar
Yellow colour is excellent colour for a kitchen place and cabinet. Take a look in this photo and get an impression. Also, the addition of white and grey goes great with the yellow, as you can see in the photo.
Adding glass chairs in the kitchen is smart idea
Be smart and use this idea for your kitchen place. Use this bar for eating, drinking coffee on it and enjoy in life. Look at this amazing backsplash, the shole kitchen design is attractive, I admit it.
Mosaic tiles for kitchen floor and blue kitchen island with bar
Blue and cream kitchens are my favorite. The floor of mosaic tiles is also great option for any home style. Pay attention to this photo which is one of the best for this post.
Concrete kitchen place
Concrete kitchens are always a good choice and the black chairs are cool to complete the decoration. As you can see, this bar is aimed for even nine people. so it means there will be place for the whole family members.
The combination of cream and white colors in kitchen
This is cool combination for kitchen place, place for eating, drinking coffee. Draw inspiration from this photo where the design is stunning and alluring.
Light blue kitchen cabinet
Kitchen bar needs tall chairs like this in the photo. If you have a little time, please take a look in it and inspire yourself with this lovely design.
Modern green chairs for the kitchen bar
Adding green chairs in the kitchen room is great idea. Glass kitchen cabinet is very good idea, don't you think the same as me.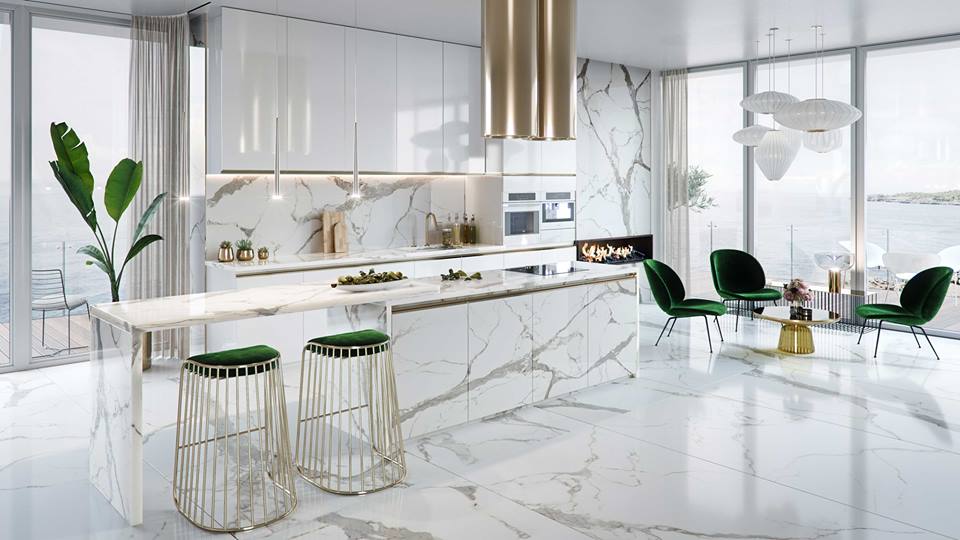 I hope that these kitchen bars was impressive for you, be kind and share these ideas with your friends and people who enjoy in modern interior design.