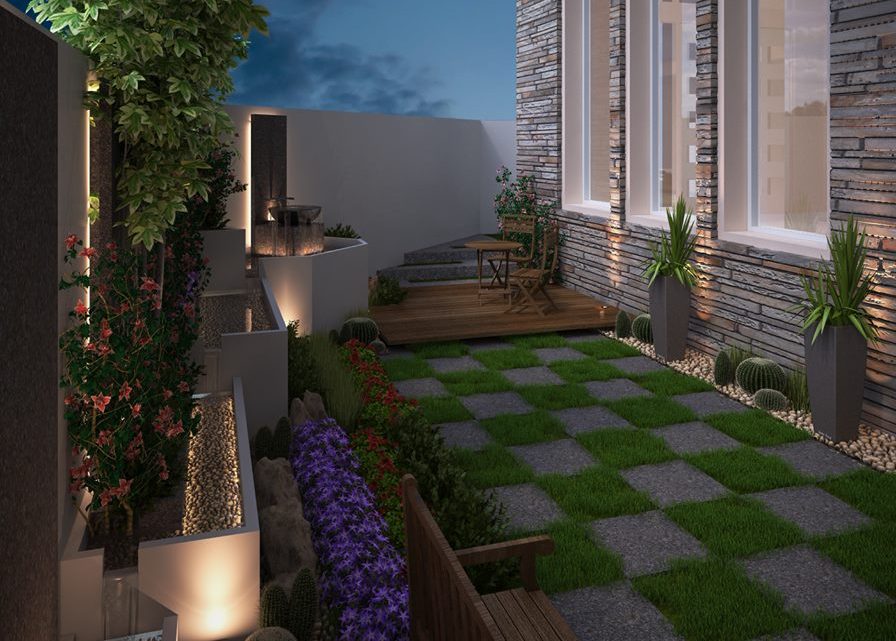 Are You Dreaming For Having Backyard like this???
Are you dreaming of having a backyard that will be a modern, a place for seating in it, a growing place and have fun with friends and family? Well, don't dream anymore but may dream come true! This is the place where we should invest our money, to grow our flowers and plants here, to take care of the floor because this place we can use to hide from our problems ad be happy people.
If you follow us to the end of the post, you read the full text and see all designs that we will present to you, you will surely be inspired and find some idea for your outdoor place.
Amazing backyard design you must see
We need WHAT in the backyard place? Well at first we need nice flooring like you can see in the photo now there are concrete steps in combination with grass. We also need a wooden floor and a place for seating with our friends. What else do we need here, check in the next photo where we will show you the same place but from another perspective.
What we also need is hidden lights, water features, nice flower pots with beautiful plants in it. We need lovely colorful flowers, wooden seating tables and chairs that will be cozy areas to hie here with our partner and drink our afternoon coffee. If you have yard like this, you will surely spend your free time outdoors instead of sitting home and wasting time indoors.
You can have a swimming pool in the yard
In the third photo, we can see that if your yard is large you can also have small swimming pool here, nice grass, place for sitting and a lovely fence. At the same time, you can have hidden lights and special terrace. Take a look in the third photo from the post and one lovely design.
Create an outdoor dining room in the yard
In the last photo, we will focus on the dining area that you can have in the yard place. Here, you can eat with family and enjoy looking for the design that you've created with so much love for nature.
Check the last post we shared yesterday and was about why I want these 3 D wall stickers for my house walls and I surely will choose to have it if I know where to buy it. With this sentence, we will finish this post today that I hope was fun and interesting for you. Keep following us in the near future to find more ideas similar to these!!!