The Use of Gypsum Board in Bedroom
In our bedroom place, we can have different designs. We can have a wooden wall, wooden floor or we can choose to have something unusual and ordinary. In this case, if you agree with me and you wish to have an unusual bedroom that will be your favorite part from the home, stay with me to the end of the post. You will see the use of gypsum board for the bedroom ceiling but also for the walls.
We will show you how to use the gypsum board in the bedroom and combine lighting at the same time!!! Prepare NES coffee and drink it while you are seeing very nice bedroom designs! 🙂
Combination of gypsum board and lights in one purple bedroom
In the first photo, we can see how great would be to have a modern purple bedroom and gypsum boards on the ceiling and bedroom walls. As you can see the color is purple, light or dark, the result is stunning. Check it now!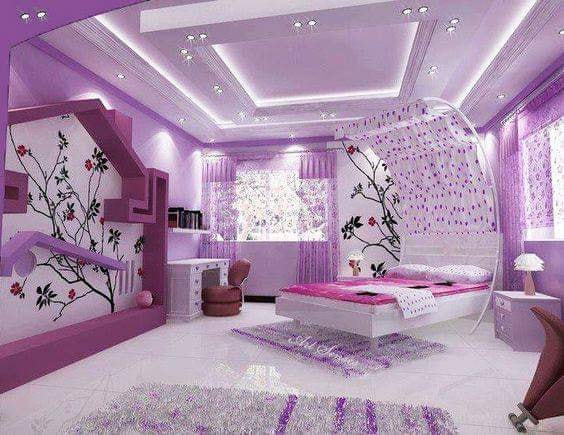 False ceiling for bedroom walls – teens bedroom
In the second idea we can see dark pink colored bedroom and use of the false ceiling and modern walls. This design is for small little girls and we as a parent should be proud to choose modern design for the bedroom of our little daughters.
Modern and alluring bedroom design
In the third model of bedroom we can see modern lights for the ceiling, modern bed, modern wooden floor and hidden lights for the floor. As you can see the design is stunning and we can only say BRAVO to the designer!
Bedroom modern wall design and false lights
In the next photo we can see again modern bedroom design and you are there to take a look in the photo now and to choose the best bedroom for your home place.
Pink bedroom ceiling and hidden LED lights
With the hidden lights in bedroom place, we can make our interior place the best place for sitting in, living in and sleeping in. Now check the next photo and think if this is bedroom design that you wish to copy and have it at home.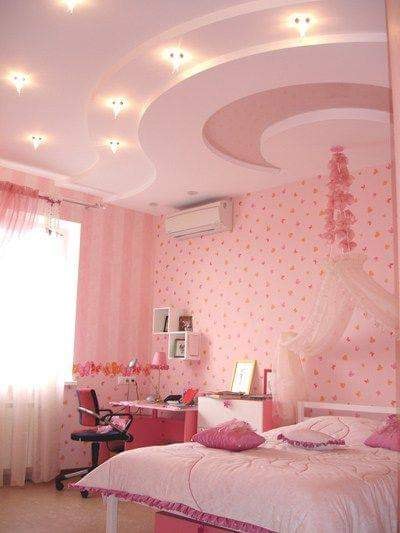 Flowery wallpaper in bedroom place
We can keep the gypsum ceiling in bedroom place and also to combine the hidden lights in interior. Take a look in the last photo of this post and be kind to share all these ideas with friends and family.
By the way, check the courtyard designs that are simply perfect if you haven't already read it this morning! this is all for today dear friends, we will finish this post in a positive way as we started also. So, have a nice day and our team invites you to be our future follower too!!!