Stunning Photos of Parallel World
The world is amazing dear friends! People are amazing also but there is a parallel world where half of the photo we can see happiness and in the other half we can see sadness.
In some period in life, we feel happy because everything that happens to us seems to be happy. We have money, family, parents, and these days are happy for us. But, in the next days happens to us to lose all the money we have, to lose parents, to lose family, to lose the house. It seems that everything turns around and this is exactly what is the theme of this post today. We offer you a PARALLEL WORLD through photos and I invite you to spend your free time with us and to see it!!!
In the first photo we can see girl who is seek and have cancer but in the next photo we see that recently she had nothing and she was healthy. While checking all the photos here we can see that every from us can be this and can be find in difficult situation.
In the second photo we can see the flip of the coin, when a father is happy and his son while in the next photo his child is sick. I think that this is very sad, some day we are happy and everything is fine and the next day everything seems bad and this is why life is difficult.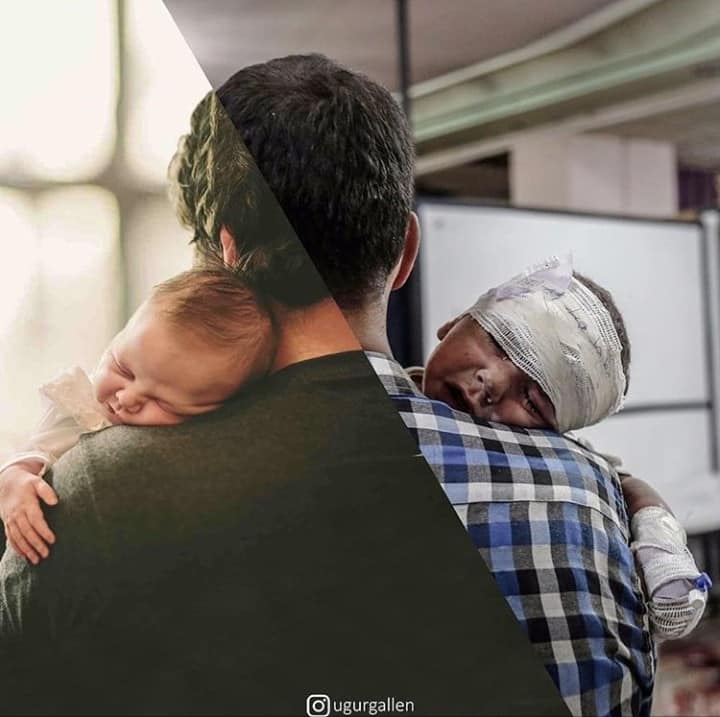 In the third photo we can see how in one period the sky is full with war planes that are dangerous for our health and in the next photo we can see how the sky is filled with birds. This photo says a lot for us and it seems that time is changing so we can't sure that in every period in life we will be safe. Hold on dear friends when bad period is coming!!!
And in this photo we see that when we are children we don't think on enviroment and pollution and the only problem for us is to play outside and making balloons. while the second photo tells us that when we grow old we find out that pollution can really upset us and it's dangerous for our health.
Black and white couple is the theme that you will see in the last photo. Let's describe this photo and find out that even seems so weird to us, when people fell in love they lose their brain, they forget about the skin color and open their hearts, fill with love, etc. the only thing that other people should do is to leave them to be happy, without stereotypes!
Also, read about how to lose 10 pounds for only 2 weeks and be slim for the summer, look great on the beach. Thanks so much for your attention and the time you spend with us! We are and we will stay your favorite team, your favorite page with the best posts and I hope you will stay our favorite readers!!!