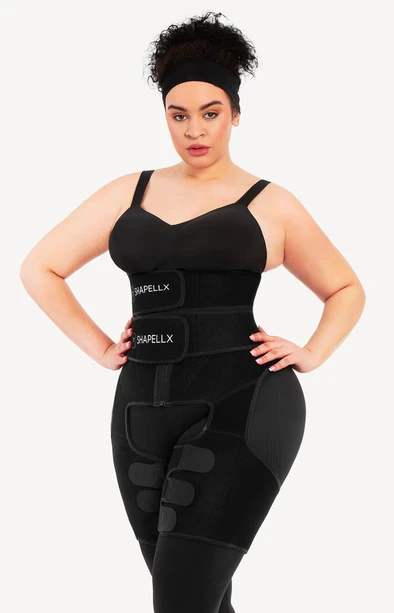 Plus Size Women Friendly Waist Trainers
Thanks to celebrities and social media influencers, the popularity of waist trainers has increased immensely among those women who wish to have the perfect figure.
What is a waist trainer?
A waist trainer is a high-compression shaping garment that you wear around your midsection to slim your waistline instantly and supplement your fitness goals. Waist trainers act as modern-day corsets that, when worn for several hours a day, shape your silhouette by creating the appearance of a cinched waist and curvier bust and hips. Most of the time waist trainers are made from thick elastic fabric with laces, velcro, or hooks to keep it strapped around your midsection.
What are the benefits of a waist trainer?
Hourglass figure
Many women start waist training because they want an hourglass figure. Waist training helps you achieve that shape by cinching your waist and accentuating the curves of your hips and bustline. If you waist train correctly, you will see the results in a couple of weeks.
Weight Control
While waist trainers can't burn any fat in your body, they can help you control your body weight by restricting the amount of food you consume. If you have a habit of overeating, wearing a plus size waist trainer with zipper and straps during meals will make you feel full faster, as it squeezes and puts pressure on your stomach.
Better posture
Wearing a waist trainer may encourage good posture while you're wearing it by preventing you from slouching and providing the necessary support to your back.
How to wear a waist trainer
From petite to plus size women, virtually any body shape and size can benefit from slimming the waistline and creating hourglass curves.
The right plus size waist trainer needs to fit you like a glove. Too loose and they will not fulfil their purpose; too tight and they will be uncomfortable and unwearable.  Not everyone is built alike, your size and shape can be some of the biggest contributing factors when picking the perfect waist trainer. If you're petite, you may need a shorter waist trainer. If you are plus-sized and need extra bust support, you might enjoy the comfort and control that a vest-style cincher provides and, if your bust-to-waist ratio is particularly large, consider one with adjustable straps for the ideal fit.
While you might be inspired to jump right in and start wearing a waist trainer 24/7, it doesn't quite work that way. Like a new pair of shoes, new waist trainers need to be broken in. The garment is going to feel uncomfortable until you get used to it. This is why you gradually build up to wearing the trainer for longer periods of time. Start by wearing it 1-2 hours a day then increase that time by 1-2 hours every day and you will see how the waist and thigh trainer results will show up.
The idea behind a waist trainer is to gradually build up to wearing it for longer periods of time each day. As you wear it longer, it molds your waist and hips to form a more well-defined hourglass figure. They can trim inches off your waist and help you lose weight in the process.
Anybody can train their waist to be hourglass-shaped. Waist training works. It's evidenced in countless testimonials, before and after shots, and celebrity endorsements. Waist training is the fastest way to those beautiful curves.