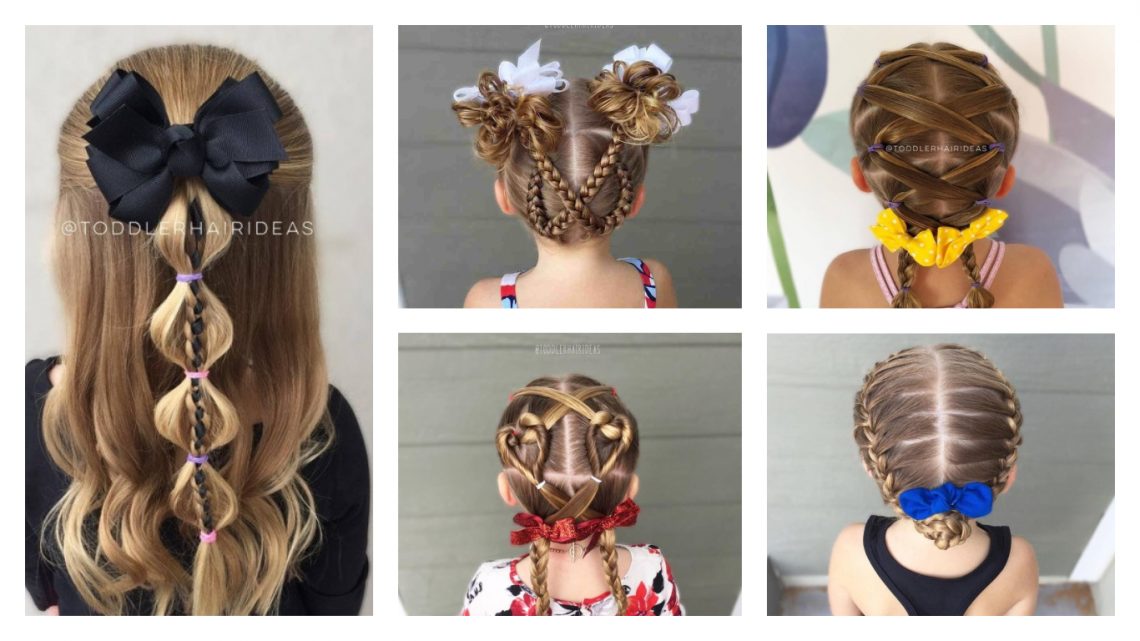 Fancy School Hairstyles For Little Girls
To be a parent of a little girl means that you must know any type of hairstyle for any occasion. So, if your little girl is going to school or kindergarten is time to learn some tutorials on making a new hairstyle every day. Depends on the girl's hair if is long or short, but most of them are obsessed with school hairstyles.
That's why we are here to help you and to give you a few tutorials about the best fancy school hairstyles for little girls! Check out the following images and use it for making nice hairstyle to your daughters or nephew that waits on you! Use your creativity and make them happy!
Heart hairstyle and two braids for toddler school girl
Every girl love heart hairstyle, so if you have enough time for making it choose this cool and fancy hairstyle for your little girls. A creative idea the for the school day!
Two French braids connected at the bottom in a cute and little-braided bun
Easy hairstyle consisted of two French braids ( that are very popular nowadays) that are connected at the bottom. In the end, there is a cute bun that makes this hairstyle one of the most cutest hairstyles for school.
Zig-Zag Hairstyle for School Girl
With zig-zag styles, you will never get wrong. Two braids picked with yellow ties is an interesting look for one little girl hair.
School hairstyle – little girl dutch braid
Toddler hair can look like this if you just make two little dutch braids like the girl's hair in the following photo.
Blond tie school girl, a fancy hairstyle
I really like this hairstyle idea, it really looks arranged and perfect as one of the best school hairstyles.
Toddler bun hairstyle – perfect idea for school time
Bun school hairstyle is maybe the best idea if your child is swearing a lot. This is the idea you need for good looking hair and also keeping dry your little girl dress.
Cross dutch braids messy buns toddler's hair ideas
Interesting idea but you will need some extra time to make this hairstyle, maybe a half an hour. However, the result is nice and your little girl can wear this hairstyle even for 2,3 days!
Two Feed In Braids WIth Curly Ends
I really like this idea, but I must tell you that this style is more for celebration and wedding. About the school time is better to decide for braids and buns but all hair to be picked up!
School hairstyles – star hairstyle, one braid and a ponytail
Star hairstyle, one braid and a ponytail look perfect for one little girl. Do you like this idea for your little girl's hair? If the answer to my question is yes, feel free to share this post on your Facebook wall. Thanks a lot for being our faithful reader and following our website www.keepitrealx.com