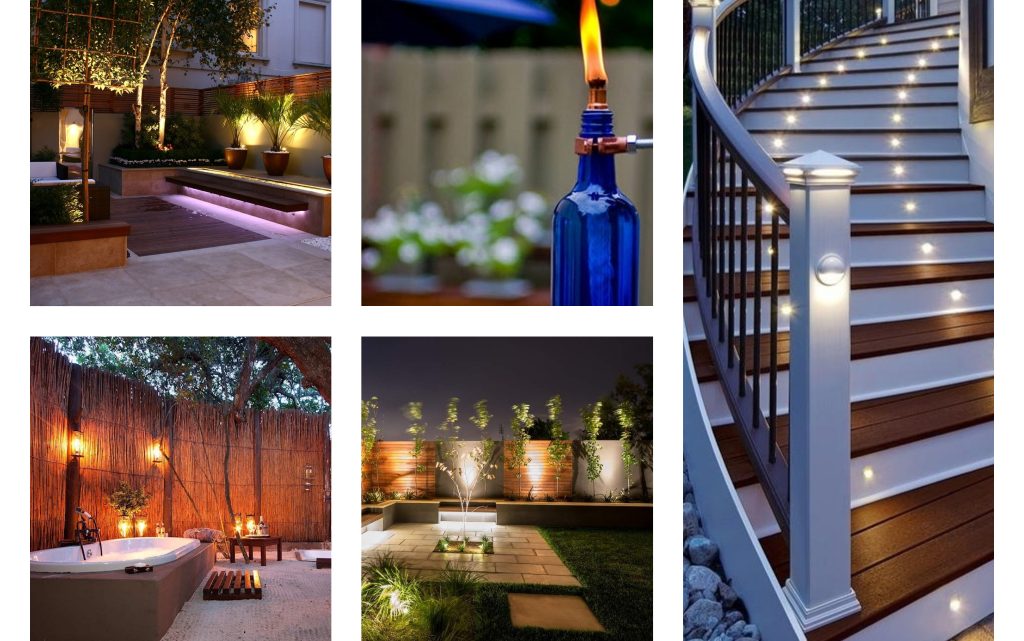 Awesome Backyard Lighting Will Melt Your Heart
Every outdoor place should have awesome lighting that will beautify the place. There is a variety of choice about how to enlight outdoors and choose nice backyard lighting and we will present you some of it. you will see outdoor staircase lighting, floor lighting, illuminated flower pots, wine bottle tiki torch and stone wall lighting. It's interesting how lighting can change the ambient in an outdoor place, can open up space and extend the seating area. With this, you can feel wonderful when spending your free time there.
Our ideas are great E.X.A.M.P.L.E of how to choose the suitable light for backyard place and you just need to TAKE A VIEW! Although, check these gypsum boards with lighting that will surely catch your eyes. Enjoy!
Backyard bamboo fence lights
Bamboo is a great material to decorate the outdoor place of your house. In the first photo of our inspiring post, we can see awesome backyard fence with lights and lovely jacuzzi that will give you one inspiring backyard place. copy the lighting idea for your own outdoor place.
Backyard fence lights to open up the outdoor space
what a lovely wooden and cement fence with a combination of LED lights. Save on energy and at the same time have a place for relaxation that looks modern and pretty. Find an idea for an outdoor place with the inspiration of this photo.
Backyard under the bench lights and hidden wall lights
Contemporary backyard place looks like this in the photo! Lighting under the bench, large flower pots that look contemporary and wall lights that save you on energy and makes you have a nice modern place.
Backyard staircase lighting idea
Outdoor staircases need modern lights like these in the photo. Walk in a style with outdoor stairs like this and feel like is day during the night!
Wine bottle tiki torch as a backyard lighting
Great reusing of the glass wine bottles for making good looking lighting backyard. Steal this idea from us and be modern person.
Backyard glowing balls in the backyard place
Find a suitable place for your fresh flowers, plant it in a glowing ball that will also enlight the yard place. do you like this idea?
Outdoor wood floor lighting in the backyard place
Wooden flooring in outdoor place looks cool in combination with LED lights. Take a look in this photo that will inspire you for sure. If you are wondering what design to have for outdoors why don't you scroll down and see other lovely ideas?
Outdoor backyard lighting in dining area
The very last idea of this post is about those people who have an outdoor dining area. Its an interesting idea about stone well lights that are hidden but many people will notice because they look ADORABLE. It's time to finish our friendship here, my dear friends, so I wish you a nice rest of the day and we see you tomorrow again!