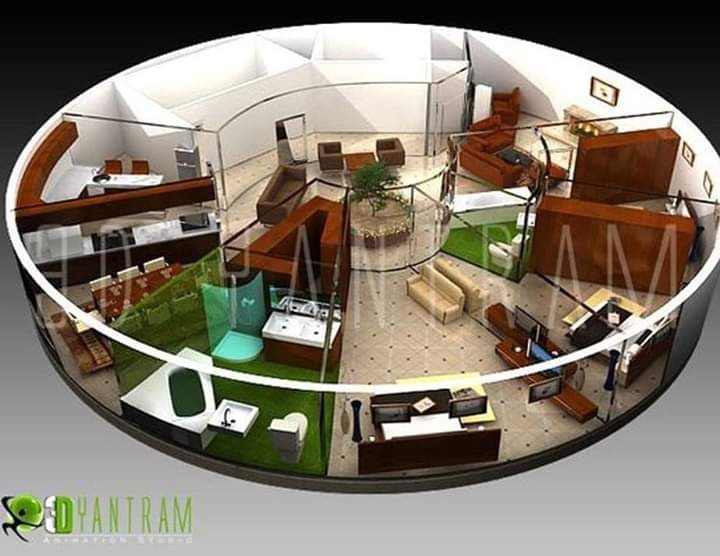 Amazing 3D House Plans Will Inspire You
Hello people, it's time for amazing 3D house plans that will help you to find a design for the future house of living. It's great when you have some plan for the future home and place for living and if you stay with us for some minute you will see house plans in 3D for free. All the ideas and organization are stunning and we invite you to be with us and to find the plan for the future house!!!
Round plan for amazing home place looks great
We will start with round plan, perfect design and organization for the house where you will spend all your lifetime. I invite you to see place for living room, bedroom and all the other rooms you need here.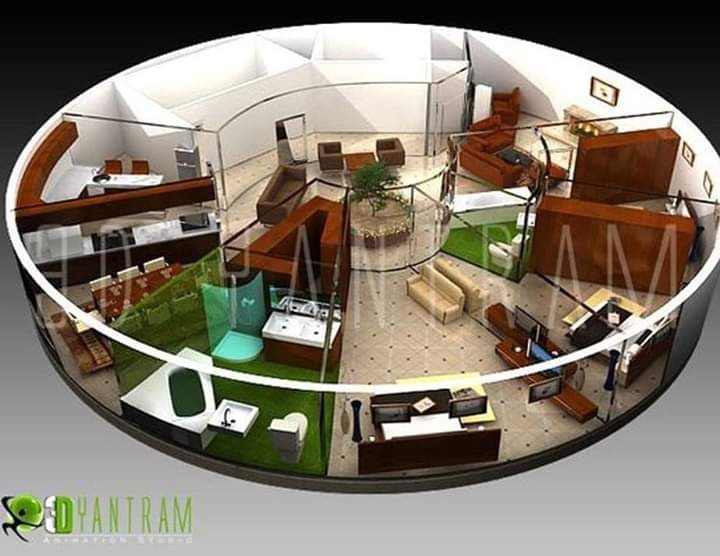 Make full organization to the future house where you will live
In the second photo, the plan isn't round but you have one modern living room, one modern bedroom, one kitchen, one bathroom, and even one closet. The organization is cool and you definitely must save the photo on your desktop.
Geometrical house plan to make plan for the future house
In the third idea and plan you will see round kitchen island with bar, bedroom and living room placed in an open area and also there is small place for the small bathroom here. Take a look in the design now and find idea in it.
400 square foot house plans in 3D progrrame for you
In the next photo you will see the house plan in 3D again and as you can see the design is cool. A place for the kitchen, a place for the living area and bedroom. There is also a place for modern bath and also some small space for closet or balcony.
House plan for a house with 4 bedroom
In the last idea, we will see the plan for a house with 4 bedrooms. Look at this nice organization that will help you in planning your future and future home for living in it. With this idea, we will finish this post so hope you already decided which plan is suitable for your home.
If you saw these plans probably you have found some idea and plan for the future home and place. Also, read about last post that was about wooden interior stairs for modern homes, also share it with friends. Thanks so much that you spent your free time with us and I hope you will keep doing that all summer period because we are here with amazing ideas only for you!!!