Wrought Iron Pot Holders for Modern Home
The title of this post is about wrought iron pot holders, the perfect idea to arrange the flowers in-home or in an outdoor place. If you are fed up of seeing flower pots around the floor of your house, choose this to have a modern home. Also, you can move the holders in outdoor place and to take care of your flower pots here also.
READ SOMETHING NICE: Try bathroom decor at home with our amazing ideas.
Amazing wrought iron pot holders for interior walls
In the first photo, we can see amazing wall garden where you can arrange all the pots you have an in-home place. Wrought iron holders are a great and good choice for every interior place. Check the photo for details.
Heart-shaped flower pots holder that you can use at home
In the second photo, we can see black and white heart-shaped flower pot holders that we can use indoors or outdoors. I really love this idea and the idea of not adding the pots on the floor but arranging it in great row.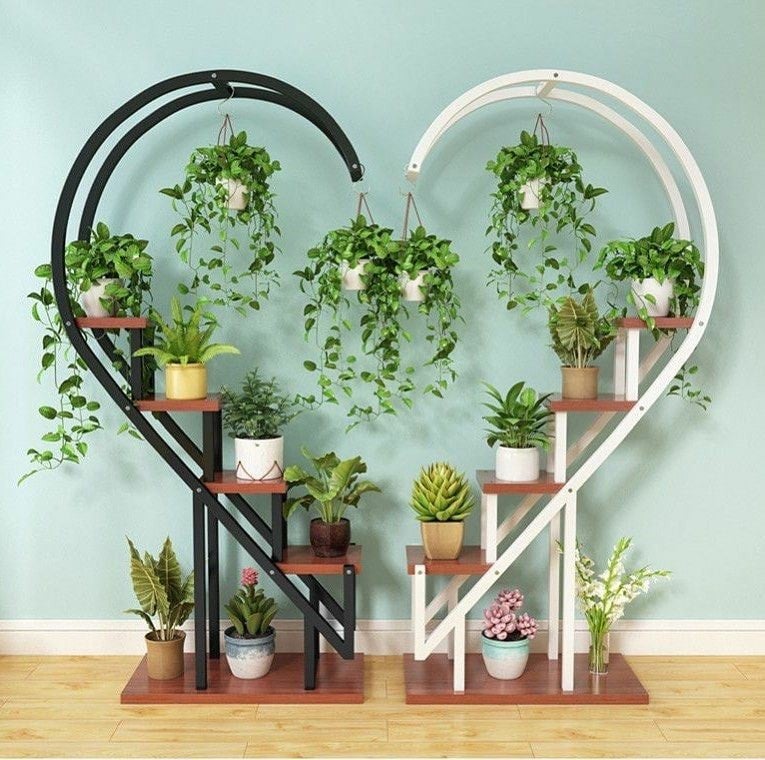 Creative black holder made out of wrought iron, a place for your flowers
In the third photo, we can see a tall vertical holder for your flower pots and plants you have there. This is great chance to create one modern interior design. See the photo now and find some motivation in it, if you want to buy the holder online, just follow the link below the photo.
White wrought iron holders for your amazing flowers
Save on space at home and choose this to be part of your house place. Find suitable place for each plant you have at home and be satisfied with the result. Let this photo be some motivation for you and your modern home.
This can be the space for your flower, buy this goldern plants holder
Living in a small home can make you a problem if you have a lot of flowers. Maybe you have a balcony but also there you need good organization and during the wintertime, you need to keep and grow your plant indoors. Wrought iron pot holders are great, take a look in the photo now and ensure in this.
Lovely golden wrought iron pots
In the last photo we can see amazing golden accent adding to home and creating one tiny garden in a home place. Take a look in the photo that will be the last from our inspiration post. I hope that you found the best solution for your flower pots and you will bring this style in your home place.
Thanks so much, for your attention and hope you still have free time to read our LAST POST shared recently. I'm talking about how to mix the cement and eggs to make flower pots for your Bonsai trees! Have a nice end of the week and keep following our PAGE!