Wish Warm Welcome to Your Guests With Entryway Designs in 2020
On this rainy afternoon, stay with us and be our followers to see amazing interior design ideas. The ideas are about entryway designs in 2020, ideas to wish warm welcome for every guest that enters in your house.
Also, read about how to CHECK PLAGIARISM, our last post we shared recently on our page and it's very informative for every business.
Amazing modern entryway designs
Large mirror on the wall in circle shape, white circle flower pot, white lamp shades, grey carpet, unique shelves… This is quite enough to add in your entrance hall and enjoy in modern style.
Bring elegance in the entryway
In the second idea, we can see unique black shelves, black wrought iron shade, cream rug, and white elements. All this placed in the very first room of the house in the entryway.
White and elegant entryway
In the third photo, we can see how white color can bring elegance in the entryway and we can be proud of our design.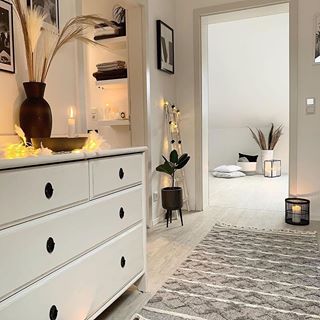 Amazing white interior design
Your interior can look like this if you are creative and follow our page regurarly. This is what you are looking for!
Add white rug in the entryway and indirect light
Combine the white entryway with indirect light, flower pots and artificial plants inside. On the wall, add wooden framed decor and say WOW to decor every day seen by your eyes and family.
White and light pink combination in interior
In the last photo, we can see the white and pink interior design in the entryway and the very first room of every house and apartment. This is the last photo from our post today so enjoy it.
Idea to idea, design to design, slowly but surely we are to the end of the post. Enjoy in rain dear friends because this is the end of the post dear friends!!! Thanks a lot for your time and have a nice rest of the day!!!