Wish Someone Good Morning With Healthy Breakfast
In the morning we don't have a lot of free time to prepare breakfast but we can do something quickly and healthy at the same time and make a surprise for our family. I think that you should wish someone good morning with a healthy breakfast like these in the following photos.
Front design that maybe you will like is here on the link, so check it.
Creative breakfast
In the first photo, we can see how to make bee with fruits, flowers with strawberries, and to all this to add one piece of bread. Take a look at the first idea of the post.
Pasta and tomatoes
Pasta is cooked for only 5 minutes and we all have free 5 minutes per morning to make this cute little face done with spaghetti. To decorate, add tomato cherry and one piece of bread.
Healthy breakfast
Make a mouse with cheese and add it to the salty cookies. This is what you need to prepare in your kitchen place and make one little surprise for your little kids.
Make a rainbow with veggies
Eating veggies per morning will give you enough energy to pass the day. The following rainbow is done with herbed mashed potato clouds with pepper & olive. Bands of red cabbage, peas, corn, carrot, and cherry tomato. Inspire yourself in the next photo.
Healthy breakfast
What you can see in the next photo are fish made with pancakes. This is something that you can prepare for 5 minutes and decorate with fruits on the plate. Play with food and this is how you can be creative in cuisine, because cooking is an art.
Silly face made with toast and eggs
Eggs are the usual food we eat per morning time. This is how we can play with food and make this silly face for our kids and even for us, adults. Check the following idea.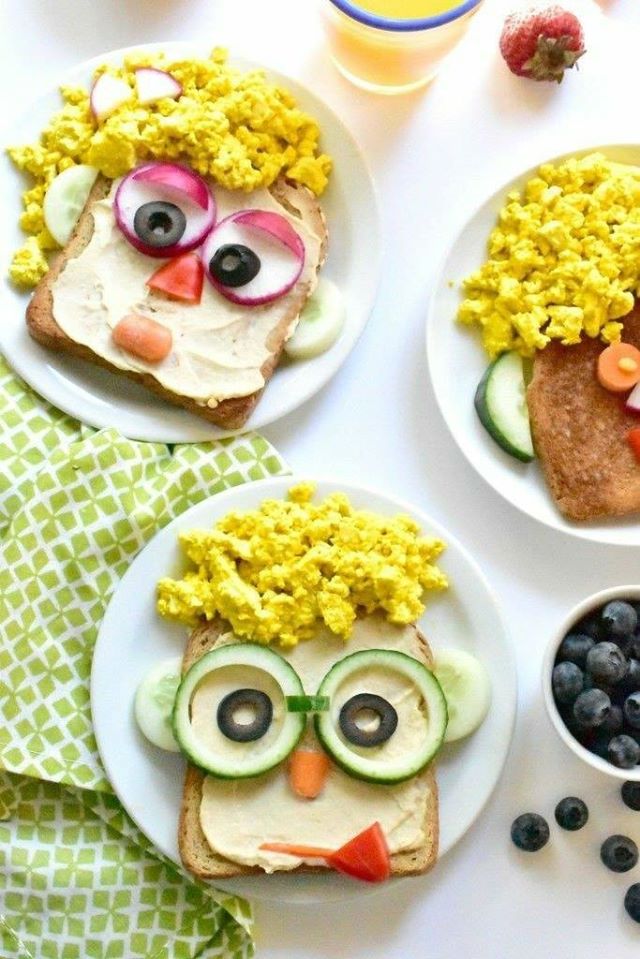 Thanks a lot for being our follower in this early morning hours, keep doing this during the day to see other creative ideas! Bye and prepare nice breakfast before leaving your home!