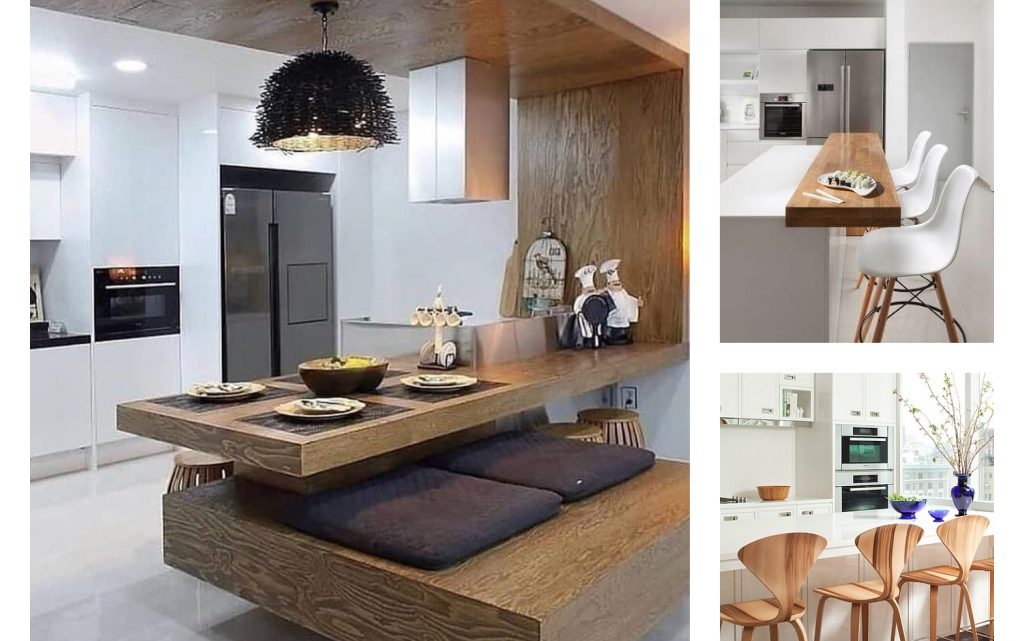 Unique Kitchen Home Bar Ideas
With their unique style, flexibility and modern look, kitchen home bar are a necessity in every kitchen place. The question is: Why we need these bars at kitchen place? Well, we need home bars in the kitchen place to save the space in this room, to keep it clean the dining room that we can use for guests. You can have breakfast seating on the chair in front of the home bar, drinking morning coffee or seating in the nights while drinking milk in the late hours.
Having a home bar means that you don't need to go out because now you have the home place for relaxation. By choosing one great design, you will create THE PLACE TO BE and your kitchen room will be the favourite part of the interior!
Wooden unique kitchen home bar
This is a cool idea that every person would love to have at home. Wooden seating bench is the great choice for a wooden kitchen bar table. Create a relaxing and good looking kitchen place where you can enjoy eating your favourite meals.
Kitchen bar home office
It's cool to have a bar at home, a place where you can eat. But this place can be also used as a home office. You can work from home while eating or cooking and all this in only one room – in the kitchen place.
Splendid modern kitchen design with bar chairs
It doesn't mean that in bars must have only two chairs, but you can have 4,5,6, chairs, it all depends on your family members number. If you don't adore wooden bench like in the first photo and you want to seat on a tall chair, choose this design for your home.
Interesting chairs for kitchen place
If you already have a modern kitchen room design you have to choose carefully the rest of the room. Look at this amazing photo that I found to inspire you and give you an idea for your home decor.
Tall wooden chairs for bar
People love adding wood at the interior as a decorative element. Buy tall wooden chairs that you will use at home for sealing on it and eating in the place where you cook, in the place where you eat, in the place where you have the best design…where? In the kitchen!!!
Modern dining room with a combination of home kitchen bar
When is paid attention about dining room to be in tone with a home bar, everything looks fine in this place. This photo is proof that one home can look simple but also with modern colours and tones.
Attractive kitchen island with tall chairs
Sometimes you only wish to drink milk or coffee and you surely feel bizarre to sit on a big dining table only for this. That's what I'm talking about in this post from the beginning. You, I and everyone need these bars at home place, this is a necessity.
Contemporary kitchen home bar design
This is one idea about modern kitchen design that offers a great organization. Please also take a look in 10 luxury kitchen island design for this year, 2018.