Tiny but Contemporary Kitchen Designs
We haven't shown you recently how to design the small kitchen and now it's a perfect time to do that. Our topic today is about tiny but contemporary kitchen designs and you have a TASK to see the photos RIGHT NOW!
Kitchen is the room where we spend a lot of time, cooking for us, cooking for friends and guests but most of the time we spend cooking for family and especially for our kids. We need small space, easy for cleaning and maintaining but also good looking, we need contemporary design for our small cooking place! Exactly this we will try to show you in the photos below and maybe it's enough of writing, go through the photos now and view what means modern architecture and interior design. And if you want to refresh your space, you may want to start with Granite Installations.
Beautify the small kitchen with nice flowery carpet
the first trick to beautify the small kitchen is to use white colour for the cabinet and to add flowery small carpet that will beautify the place, the flooring, and you will wish to cook here with hours.
Adding stacked bricks for kitchen backsplash
Stacked bricks for kitchen wall is great choice and the decor can be completed with hanging lamps like you can have the chance to see in the second photo from this post, so take a look.
Stacked bricks for the walls of the kitchen place
If there is no space for carpet, the other option is to add modern circle rug here like you can see in the photo that follows, for the walls you can have stacked bricks and with this to enjoy in one modern small room where you will prepare delicious food.
Combination of white and ink in kitchen place
You will have the chance to see how will look if you combine light pink with white colour and imagine where? In the kitchen place. If you are a positive person and you aren't in love with dark colours added in the interior place, this can be your choice for the kitchen and here you can cook every day with love and passion!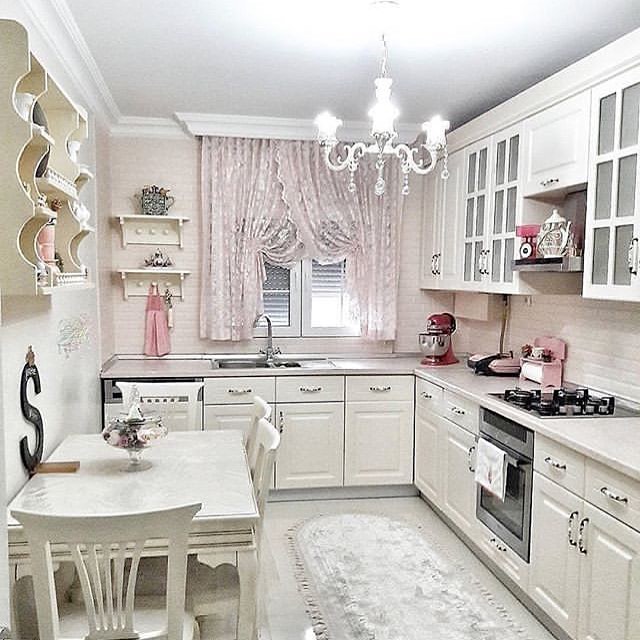 Lovely kitchen design in the small apartment
And, we also have an idea for those who love dark colours. With this lovely kitchen placed in a small apartment, we will finish this post. Take a look in the photo now and see every detail we have to show you here. I hope that some of these ideas inspired you and you have found an idea about how to decorate the tiny kitchen.
Well, if you check all the photos of tiny modern kitchens we shared with you in an unselfish way, please feel free to share this with friends and together with them to also read our last post about awesome backyard landscaping ideas!