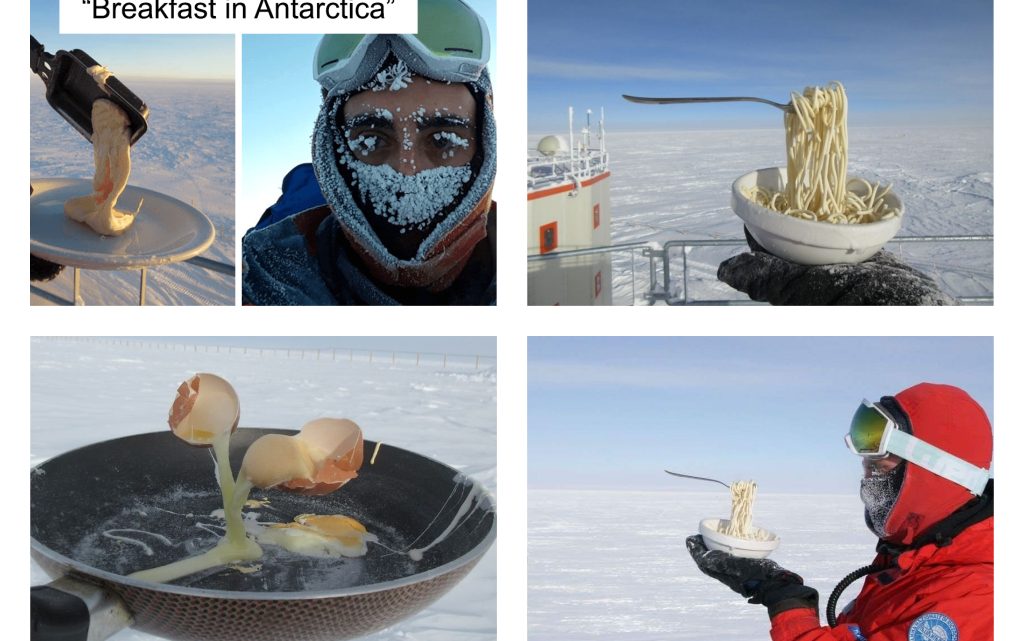 This Will Happen If You Cook Breakfast in Antarctica at -70ºC
Cyprien Verseux, who is he? He is a glaciologist and astrobiologist, a person who tried to show us what will happen if we try to cook breakfast in Antarctica at -70ºC. At the moment he is working in the scientific base Concordia station in Antartica on a project and when he has a free time, takes photos that will crack you up. The photos that he has taken are eye-catching and amazing and if you see carefully, you will conclude that there is no chance to cook in this place. In some interviews, he added that in this place nine months of the years are very cold and vehicles can't come and go, due to the weather conditions. Although he said that this is the coldest area on Earth, he also says that the temperatures here can fall even under the -80ºC and there can be a period of three months without seeing the sun shining.
Before seeing the following photos, let me tell you a few interesting and surprising facts about Antarctica. Antarctica is the coldest, driest, windiest and the fifth-largest continent large 14,000,000 square kilometres (5,400,000 square miles. Even though this continent is twice larger than Australia, it has a population just of 1106 citizens. To survive in this place makes you a superhero and many people who are coming here for making some projects, for travelling or working, come back with serious diseases. Stay till the end of this incredibly interesting post that will make you say thanks to the temperatures that your country offers at the moment.
Cyprien Verseux and his breakfast in Antarctica
What about preparing spaghetti in such a cold place?
Well, you can only see the spaghetti desperately because you can't eat it, as the Cyprien is doing at the moment when is pictured.
Having breakfast in the coldest place on Earth
Probably you won't have any breakfast, lunch or dinner here 🙂
Could he prepare eggs for breakfast in a place with a temperature of – 70ºC? Check the photo and find out
Well, if you are coming in this continent forget about preparing eggs because here the temperatures are so low and you will be freezing in the same way as your food!
All these photos, Cyprien shared on Twitter and there are a lot of comments, so I will mention some of it. Some people are wondering is there anything else in this place that this person tries to hide, and the others are simply fascinated with raw eggs and spaghetti. My personal opinion about this topic is that not every person can be a superhero and to survive in such cold places, especially if the mother country is warm country and has never faced with low temperatures like this. However, we can get one conclusion from all the photos that Cyprien shared with us on Twitter and that is: If you go in continent Antarctica you will be hungry all the time 🙂
Check about fancy garden decorating idea, post shared our page to inspire you.