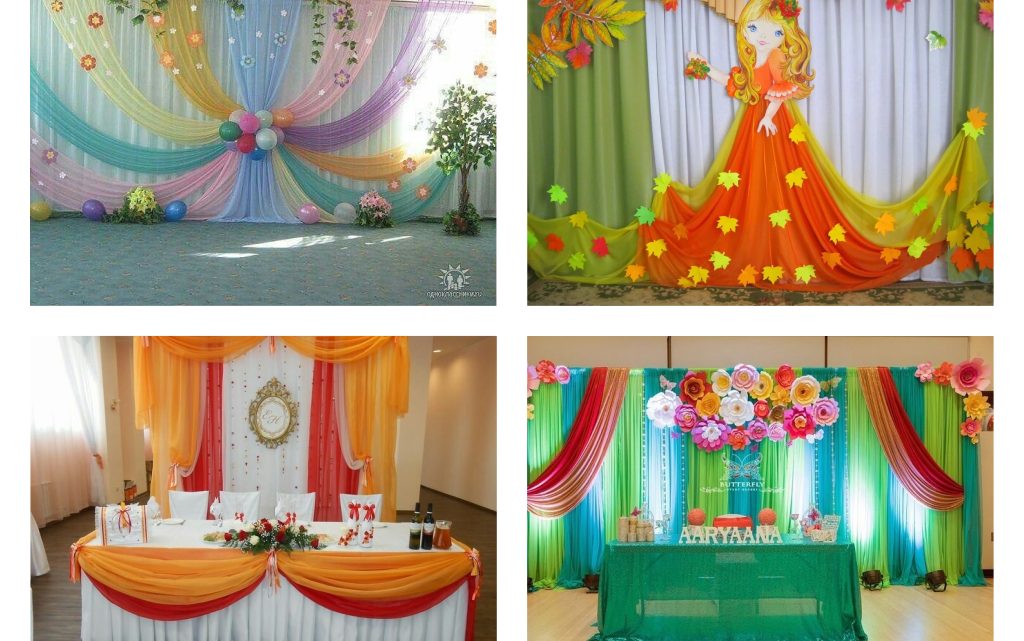 Lovely Curtains Decoration For Birthday Parties
Nowadays, people spend a lot of money to decorate the hall for birthday parties of themselves and also for birthdays for their children. They wish to have the best curtains, the best table setting design and for all this they pay designers. But if you are smart, creative and you have a little time you can make this decor just by yourself. In this post, we will give you curtains decoration ideas that you can copy for your child birthday party and any other celebration.
It doesn't matter if the birthday party id for girl or for boy, you can feel free to copy some of the following styles and to make the best window covering in the place where you will be celebrating the birthday. Take a look in the photos and inspire ourself, also read about last post about where to hide the valuables when you aren't at home.
Colorful curtains decoration for birthday party
Make combination of different colour of curtains and also use balloons for knotting the curtains. Inspire yourself in the photo below.
Pink and blue curtains design
Here you have one good combination of pink and blue which is excelent choice for boybirthday and  girl's birthday party. Inspire yourself in this photo.
Orange and red combinations curtains decor
Here is one lovely idea about how to choose the right curtains for next celebration you will have or for the birthday of your little girl.
Yellow and white combination for curtains decor
For me, yellow is great colour that can make one space cheerful, take a look in this photo and if you wish you can copy the idea for your house place. This design idea is also excelent for ceremonies like wedding, don't ypu think the same as me?
Green and blue curtains design
The combination of green and blue also will ghelp you to create nice ambient and to complete the decor add flowers.
Amazing curtains design with fall accent
If your children is born in some of fall months, choose this design to beautify their birthday! Save this photo on your desktop and copy the idea whn the big day is coming, make happy your child and be happy too!
Light pink and light blue curtains decor for birthday party
Make happy your child on the day that he/she was born! Take care for the nice design that you can make it just by yourself and all you need to do is to buy this curtains and to make the best combination like this in the photo.
Pink and blue curtains design, nice combination
I don't think that if I said curtains decor for birthday party it would be strictly means for birthday parties. Also, these curains can beautify any wedding, ceremony, celebration of engagament, anniversary and many other special moments for us. Share these ideas with friends who enjoy in modern decor!