Lovely Balcony Corners Designs
Balcony place. Place filled with memories, nice moments with friends, special time spent with family. Place worth our time and attention to decorate it! Exactly this thing you will see in the following, lovely balcony corners are following! Don't go anywhere but stay with us to see a nice design!
Nice balcony corner design idea for you
In this idea you will see that even small corners can look so good. With few modern pillows on the small sofa placed n the balcony where we spend so much time, with hanging flower pots and few decorative elements too, we can create modern balcony. By the way we will save on space and we will create vertical garden too.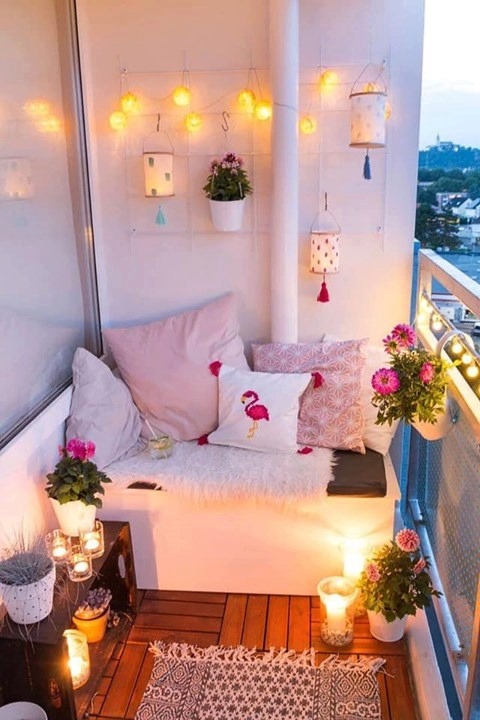 Combine the flower pots with the light in the balcony
In the second idea we can see how to combine the flower pots with the lights in the balcony place. Here, we can try different combination for example, to combine the nature with light and also to make small wooden crates coffee table that will complete the decor.
The third idea of excellent balcony place decoration tips
In the third idea, you will see a romantic balcony corner. Here, the wall is wooden, there are nice hidden lights on the wall and for more beauty thee are added candles. The bed is relaxing and you can sit but also sleep here for the summer period.
The fourth idea from this post is the amaizng balcony
Imagine the feeling of warm blanket, hot chocolate and nice design and organization to the balcony space. This is the space that you need to feel great and positive! See this beauty and try to copy the style for your own outdoor corners and for a minute to forget about problems you have in life.
Easy pallet reuse for your balcony
You can have nice balcony design even though you don't have money to spend for the place. You can be creative and to reuse the old pallets to make your own bed and small coffee table. Ideas like this, you will see in the following.
Amazing balcony decor for the first-morning coffee
Wish ,,Good morning,, every morning to your partner with a design like this! Be a happy person for having the best balcony in all region with only this idea that we have to show you today for free. Add two chairs, one small table, one small bed in the corner and finish with small decorative elements to have such an amazing place. Please, check the photo for details.
If you read all these ideas that we had to show you, we also have to show you the post that maybe you missed yesterday. It's about how to make rope and box flower pot for house and exterior part of the house. Take a look and find some idea for your free time, thanks so much!!!