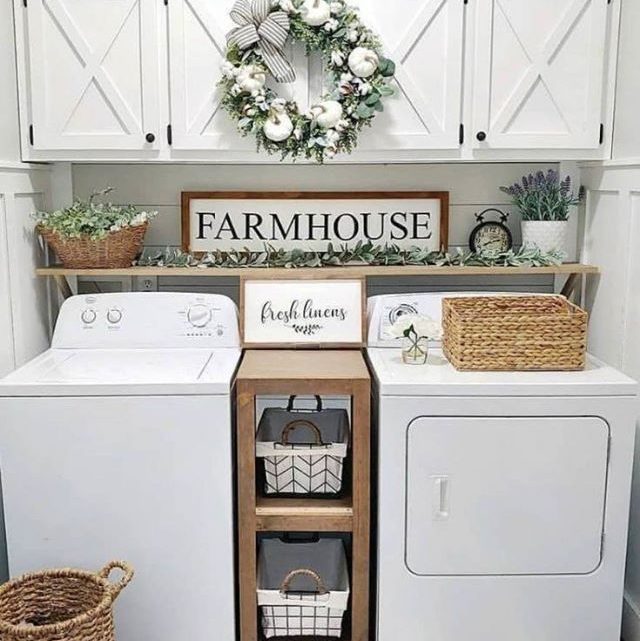 Laundry Room Designs For Tidy And clean Home
Good morning friends! Today is 1 of June 2020, our TEAM wishes you have a nice start of the month and start of the day, T O D A Y. It's enough of dirty clothes in your bedroom, it's enough of too many clothes in the bathroom. You need laundry room to keep your home neat, tidy, and clean and you REALLY must see these laundry room designs.
Organize your home in WAY like this. Check our last post.
Small laundry room designs
To have room like this, you need such a small empty corner of house place. And we all need space like this, where we can wash our clothes and no one ever see this. Take a look in this storage and laundry room ideas – perfect for your clothes.
Here you can iron your clothes
Not just to wash your clothes and dry but you can even iron it in the same room. This is the laundry room, as you can see in the photo and the design is amazing. Space-saving and tidy.
Add baskets for dirty clothes
It's easier when you make selection of clothes before washing in the machine. for example, be smart and take many baskets so in one you can add dirty white clothes and in the other to add colorful dirty clothes.
Laundry room designs in bath place
But if you have no empty room to create this laundry design, you can use the bathroom place. See how to do this in the photo that follows now.
Your laundry room can look like this
Idea to idea, we are to the last idea of this post. You need a washing machine here, a clothes drying machine. rug for the floor and a few shelves for the walls. On the walls, you can even grow your flowers and green tres and also to add your detergents. See the idea now.
I hope you have some empty space at home to create there a laundry room. Thanks for your time friends have a nice rest of the day!