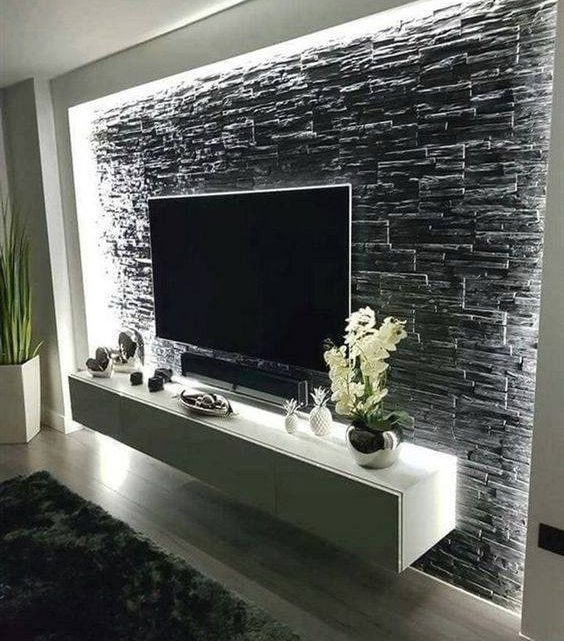 It's Time for Incredible TV Units
Hello friends. If you are wonder what time is it, it's real-time for seeing incredible TV units in the following. Our team has found an amazing idea and decided to share all of them with you and to give you inspiration!
By the way, spend some time to see breathtaking living room decoration and find some extra design for the other part from the living room. But first please see these incredible TV units to start the day in a cool way!
The combination of bricks walls and hidden LED lights
Probably you know about which combination I'm talking about. It's about bricks on the wall and hidden lights that looks so great in one modern place. Take a look in this design and fall in love with it in the same moment.
The simple design of one modern TV wall unit
In the second photo, you can see how one simple design can look great even if the design is simple. What means to be simple design? It means to be nicely painted the wall, to be added two lamps on the walls and to be placed for the large flower pot here. The sofa should look simple too and with this to create one amazing interior design.
White bricks for the wall and wooden floating shelves
In the third idea from this post you will see nice look of white bricks for the wall, good looking wooden floating shelves and few decorative elements on it. Well, we need to leave enough space for the TV so we don't need too much decorations for this wall. Check this design now.
TV area design for one bedroom place
Well, it doesn't mean that we need just to take care for the design of the TV wall in our living room but we need to think also for our bedroom place if we have TV also there. Actually, in the photo here is combined the bathroom unit too. Imagine how great combination is this. You are sleeping while your TV is in front of you on the wall, you have place for the make up and cosmetics next to the units and cabinet and by the way there is small bath vanity in the same space. Absolutely smart idea!
Amazing TV wallpaper for the living room walls
TV wallpapers in 3D look great when it comes to word one wall with TV in the living room. Please check this photo carefully because this is the last idea from this post and also go back to see the other photos.
At the end of the post, thanks for reading our posts and being our faithful followers, hope that you will keep doing this in the future to find the best ideas at the home!