Impressive Bathroom Mirror Design
Hey friends. Recently, we had a post about creative and classy bathroom shower ideas which I hope that was helpful for you. This time, we will keep to the bathroom decor again, but we will show you some impressive bathroom mirror designs that you might wish to check. You will have the chance to see a circular mirror with or without frames, round LED mirror, mirror with hidden LED lights and square mirror frames.
Wall mounted round LED bath mirror
Let's start with one of the best images for this post. As you can see this is wall mounted LED mirror design for every bathroom place. You don't need any frames when you have the design that looks like this and has lights in it.
Circular bathroom mirror design without frames
Bricks on the bathroom walls makes this place looking unique and the mirror without frames completes the decoration. this is so nice design that every person will wish to have it at own home.
Circular mirror with frames for bathroom
Alluring bath mirror will impress you and you will surely wish to have it on your house walls. Black and geometric walls goest great with circular mirror frames. Take a look in this photo and the design which is worth copying.
Impressive LED bath mirror with shadow hidden lighting
There must be some good combination of the mirror with the lighting. Both of it can be placed right there on bathroom wall and to create one place worth copying.
Exclusive bathroom mirror design with good combination of the wall
Choose the best design of mirror for each room of your house, but first of all start with the bathroom because here we spend a lot of time in looking in the mirror.
Circular mirror design with hidden LED lighting
This is again mirror without frames and with hidden LED lights. If you are asking me, I will choose this design for my home. A mirror can tell a lot of a room, so let the mirror talks about your bath design!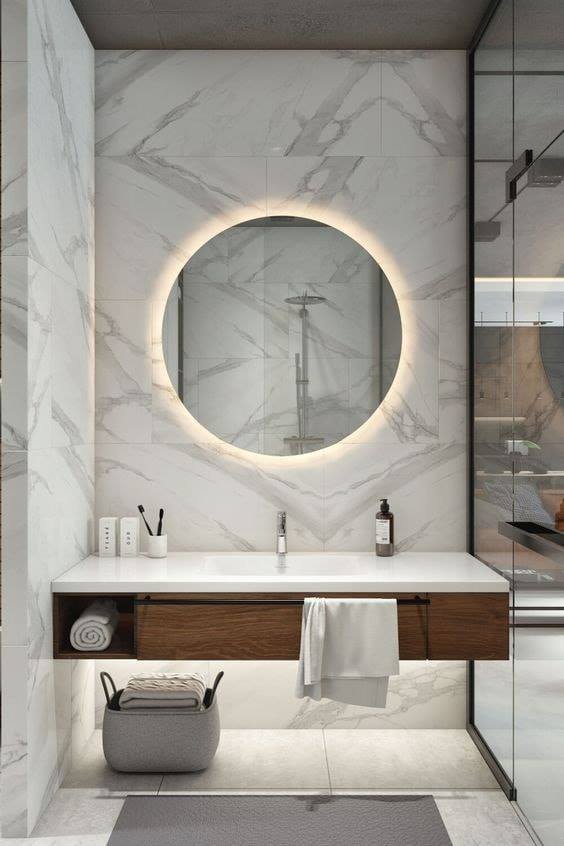 Stacked bricks wall and mirror idea
Stacked bricks for house walls can transform one boring place into fashionable and contemporary. the lighting behind the mirror is also another great idea that will help you to have completely modern bath place.
Mirror with combination of lighting, an idea for modern bath
The last idea is about mirror and light on the mirror. Why not my friends? With this design you will kill two birds with one stone. Take a look in this impressive idea and feel free to copy for your home and now I must say buy to you because we are to the end of this post!
Thanks for your attention my friends and keep following our creative page in future! We are always thankful for your minutes shared on our inspiring page and looking for the best ideas!