All World Talks About These Fall Bag Trends, 2018
Hi fashion lovers. Fashion is distinctive and changes constantly. Sometimes is hard to follow new fashion trends if you don't have time for checking it. But, if you still want to be a fashionable person, you are in the right place! Our website offers you the new styles and bag trends just in a few clicks. Save time, scroll down and find what type of bag is popular for this fall.
Be in a touch with Fashion, see these top fall bag trends for 2018. Since the fall is in front of us, check our list to find the best bags. Prepare on time to be modern, trendy, fashionable this year! Take a look in these photos that what all world talks about!
The box bag is a trend for fall, 2018
My favourite style is definitely this one. Small, box bag is the new trend for this fall. If you didn't know how you have the chance to find out. Small cute bag but enough to gather all the things you need and use when going anywhere. I love it!
Here is another idea about handbags, box bags. Follow the link below the image to shop online a bag like this one. Be trendy, be fashionable, follow new trends right here.
The oversized bag is one of the fall bag trends
This year, 2018, an oversized bag is very popular and trendy. This can be a great idea for mothers and for those who have too many things in their bags. Are you a type of person that can wear this type of bag? I'm not definitely.
The handbag is the new trend this year
A practical and good-looking solution for every modern woman. Cool idea for modern people.
Belt bag
Forget about funny and boring oversized bags, see this trend. Belt bag is what you need. A place for your money,lipstick and cell phone. What else do you need in this cute small designed bag? I love it. This is my choice for this fall definitely.
Bags with logos is modern for this fall
The fashion is coming back. Bags for 2018 use logos. Although, plaid to spice up peekaboos. You must agree with me this is an interesting design. There is a large collection of logos bags. If this is your style, save this idea for you.
The furry bag – bag trends 2018
Great choice for the rest of the year. Fall is the time when the weather gets cold. You desperately need the furry bag to be in a trend with new fashion. I love this bag, what about you? Write a comment below and let us know.
This is the last image of the post named All-World Talks About These Fall Bag Trends for 2018. Thanks a lot for your attention. Have and please share these trends with your friends. a great end of the week! Bye, bye!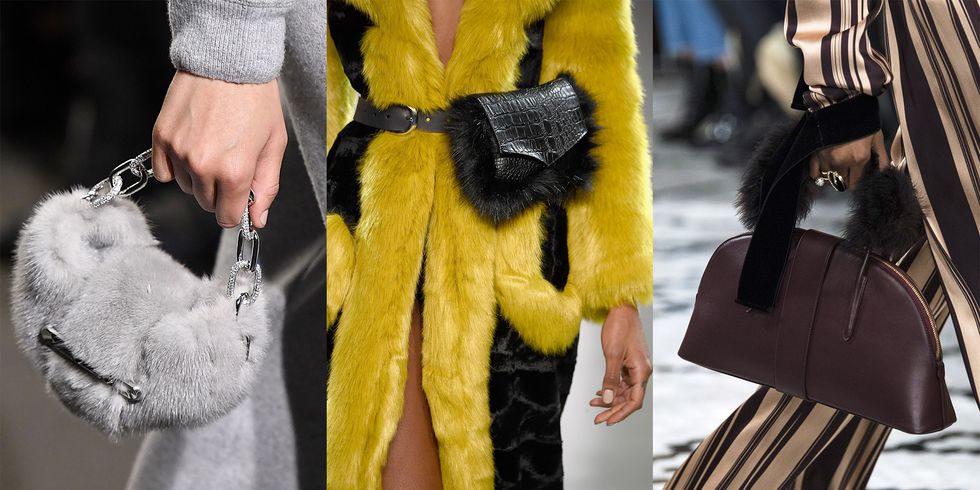 Photo via www.harpersbazaar.com