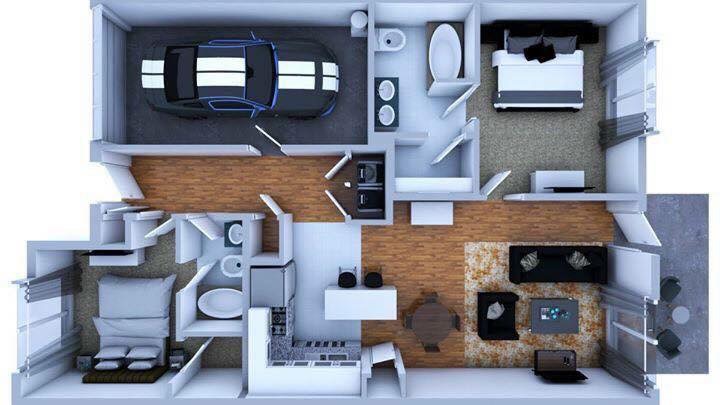 Ensure Your Future With 3D House Plans
One of the smartest ways to visualise the future house where you will spend the rest of your life is 3D house plans. Plans made with help of a programme where you have a full and smart organization of all room your house has. Nowadays is so easy to design your home and to decide where is going to be placed your bedroom, where you will leave some space for the garage and if you will have one or two bathrooms and toilets.
Use the smart programmes and contemporary technology for visualisation of your future home and not just for scrolling on Facebook and reading unnecessary things that will make you feel boring and fed up. Peek in our top 3D house plans and make a pure image of how your future house will look like.
Two bedroom house plan with garage
In our first photo, you can see a place for two bedrooms, one living room, one kitchen room, two toilets and imagine you can have also place for your car. what do you think, is this the plan of your future home?
In this photo you can see the same plan of the house but this time from another perspective. I think that this is the same concept as in the previous photo but maybe for two semi-attached houses wherein the first house there is a place for garage and in the other one there is no such a place.
Simple house plan
What do we see in this plan? One bedroom, one living room, one bathroom and one simple design where you can spend the rest of your life in luxury. Pay attention to this smart organization and be a smart person.
Two different house plans made in 3D programme
And here in this photo are two different plans, in the first plan we can see a tiny house with a large garage. I think that there might be some mistake because the organization of the house rooms is smaller than the place for a garage.
Otherwise, on the second plan, we can see a roofed garage which is a very smart solution for the winter period. Also, in the inside of the house, there is space for even 4 bedrooms, house for large family. One bathroom and one kitchen room.
Large house plan in 3D
And here is the last plan of this post today. Here we can see two kids room, one bedroom, one kitchen room with dining room, one living room, two bathrooms. And also there is a place for a garage room or if you wish you can transform this place for a terrace like this idea in the photo. It all depends on your needs and plans if you don't have a car or driving licence why having a garage when you can have an adorable terrace in that place.
Take a look in our last post about black white and grey living room design and find inspiration for your living room area.