DIY Tree Stump Art and Crafts
Hey friends. We are here to meet you with the point of wood, reuse of wood and tree stump reuse. Sometimes, we can be creative and to make lovely crafts that will beautify the outdoor place of our yard. Maybe this is the reason why we decided this day to show you DIY tree sump art made by the hands of one Romanian artist. Stay with us!
In short, we will present you the masterpieces of a Romanian artist who transforms simple wooden roots into art and for the last photo of this post we will meet you with him and you will see his work and face! His name is Jordan Anderson and we will show him in the end of the post!
Reused tree stumps and created spilled flower pot
The very first idea of this post is about how to make spilled flower pot by reusing the wood and tree stumps. But this time, from the flower pot aren't falling any flowers but what is falling is water. Water and wood, elements that make sense to our life and something without we can't imagine the life we live.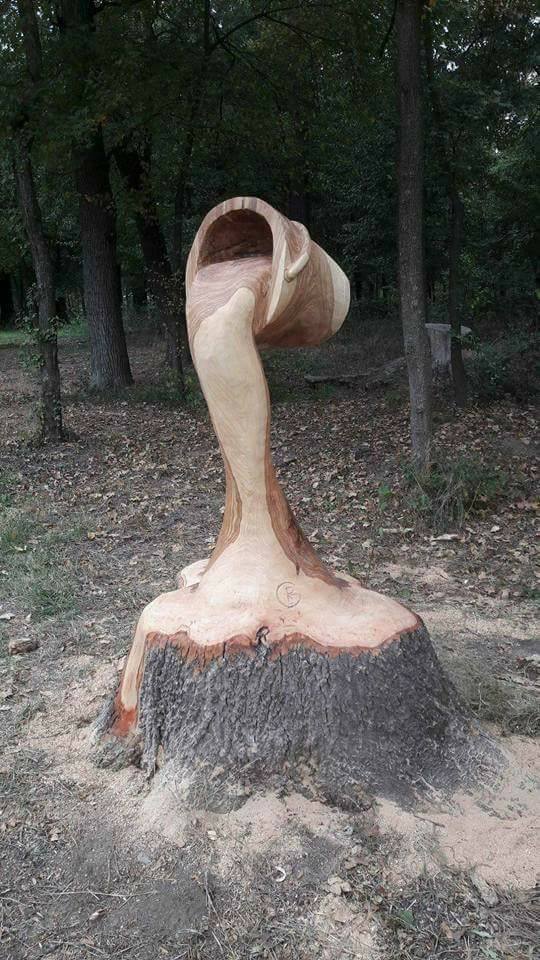 Sculpture bench made of wooden roots and designed by Romanian artist
What is great is that people who are creative share their work with us in unselfish way. So, this is case when a Romanian artist created a wooden bench by reusing the tree stumps. His result we can see in the photo here that he shared with us to insire us.
Woman's face sculptured on wood tree stumps
Something so amazing is made when a woman's face is sculptured and shaped on the wood tree stump. This is something worth your attention, my dear friends, so take a look now!
Tree stumps art
In this photo, you can also see an idea about half of the woman's face sculptured on a wood tree stump. Probably this is an unfinished project or maybe this is exactly the real thing that the artist wants to show to us. That is that we all have a mask to our face and never show the real face. 🙂
Meet the Romanian sculpture artist – Jordan Anderson
In the last photo of this post we can see how this sculpture engineer gives a lot of effort, patience and time to his work so he creates something that we can only adore. Or, maybe some of us who are born with a little talent for diy crafts will try to make this for outdoor place and will give a new life to the old wood roots.
Well, to sum up, we presented you a few wooden sculptures made by the hands of Romanian artist that you have a chance to see it in the last photo of the post. what can I add for the end of this post unless to roof my heat to this artist and to thank you for your attention!?
Read about gardening inside the terra cotta pots, something shared recently on our amazing website.