DIY Gardening inside the Terra Cotta Pots
Every person can't have a large outdoor place to take care of it and to plant flowers and plants there. But what is the best solution for these people if they are in love with gardening? Our SOLUTION for THIS is to try DIY gardening inside the terra cotta pots and to get what you want! I want reveal you details about these ideas vecause I invite you to see all the photos and ideas we offer to you and to draw an isnpiration from it.
Also, I invite you to see our rustic wooden benches that will beautify the outdoor place for sure, click here and read about it.
Use white and green pebbles and succulent for the inside of the terra cotta
The very first idea of this post is to use green colored and also white pebbles to decorate the inside of the flower pots. Also, you will need tiny flower pot to add inside of the terra cotta and to plant succulent there.
Spilled flower pot inside the pot
Decorate the inside of the terra cotta with black stones and rocks and also add tiny flower pot with planted succulent in it and spill it. lovely art!
Add river rocks and succulent
Also river rocks are great choice with succulent combnation if you don't have an option to choose between pebbles and river rocks.
Plant here the flowers you admire
You can keep this pot inside your home and to admire the flowers each day of life.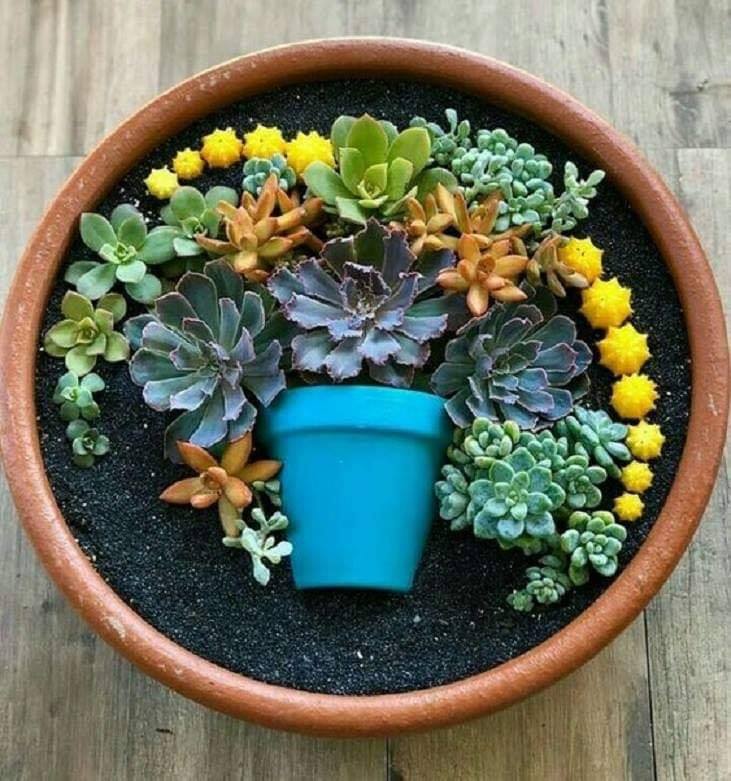 What a lovely art inside the flower pots
You don't need large garden to make an art of gardening but you need a small flower pots and to add here pebbles and rocks also to plant your favorite flowers.
Combination of blue sand and pebble rocks
Almost in every terra cotta there are white pebbles but to break the monotony you can add blue coloured sand and to plant here your flowers that you love the most.
Add tiny pots with different succulent plants
Don't be afraid to plant different succulents and flower pots inside the terra cotta pot and also to decorate with pebbles that are simply in white colour.
What about adding tiny terra cotta pots inside the terra cotta?
Maybe this sounds a little weird but to be honest this is one of the greatest ideas that I've seen in my life. But, words are words, we can't beleive to the words if we don't see with our eyes that NEVER LIE! check this photo my friend!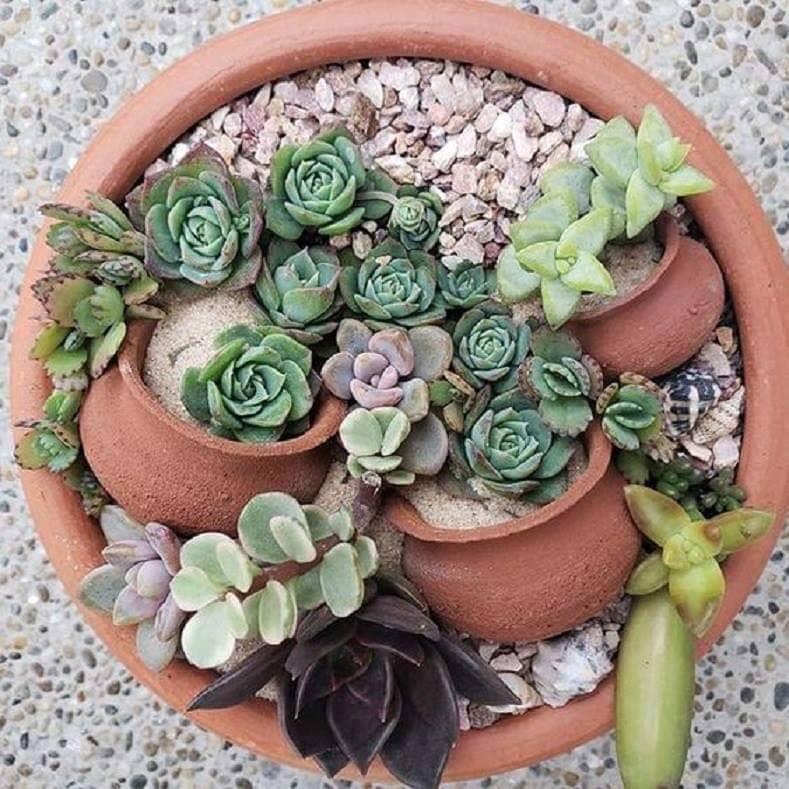 The white pebble and succulent are always nice combination
You can never make a wrong choice if you just combine the white pebbles with the succulent plant. Why? Check this photo and you will find the real idea of making an art.
Visit our website to see more ideas that you will find useful for the indoor place and also for the exterior part of your house. At the end of the post, I just want to thanks for your time and to wish you a very nice START of the week!