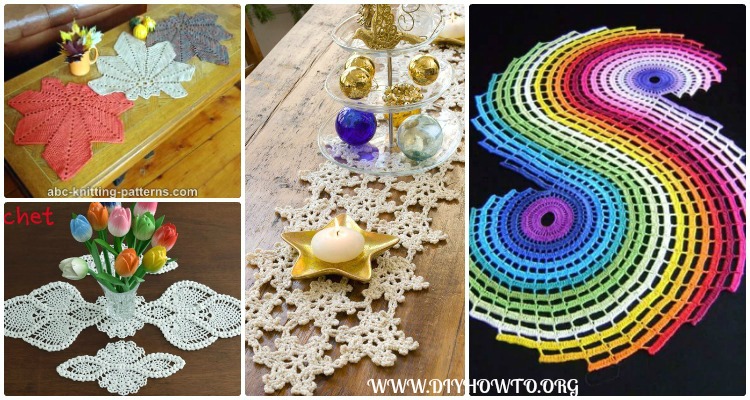 Cute Crochet Table Runner
We can make different things with crochet but this time we will TALK about cute crochet table runner. Once when you will learn how to make crochet table runner you will learn how to make crochet clothe for you and crochet rugs or blanket. I hope that we will appeal your attention and invite you to be our follower in the near future and see other ideas similar to these!!!
Follow this link and read about chocolate creativity, chocolate art you can make in no time and make a delicious surprise to people that are important in your life.
Crochet table runner in white color
White crochet patterns for the tabletop of your living room. This thing you will see in the first photo of the post, so take a look at it and learn how to make it at home in no time. If you adore seeing simple things as decor at home place, this can be your choice.
Colorful crochets for tables at your home
In the next collage, we can see colorful crochet patterns that we can have on our tabletop. If you prefer to have colorful home decor, choose these things for the home. We can simply choose the color and make the best table runner!!! Done with love!
DIY purple and white crochet table runner
If your home is already designed in purple color, keep the style and make purple and white crochet mate for the top of the table! et this photo be your leader and inspiration for making it.
Modern red crochet tabletop
If you don't prefer purple crochet choose the red one and make your home magical home. Take a look in the photo now, draw inspiration from it and make it at home, if you know how to make it! But if you don't know, follow the link below photo to FIND OUT!!!
There are other things to make with crochet but we will show you next time in a new post and that will be VERY SOON! Thanks for the time and have a nice START of the week!!!