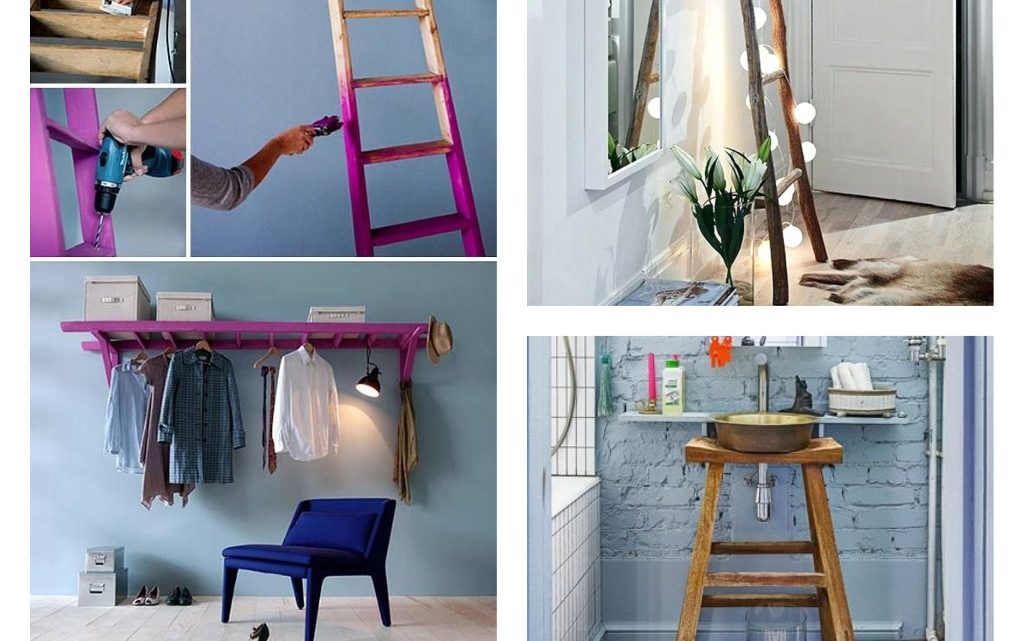 Creative Ways to Reuse The Old Ladder
Never throw the old things at home, but find some creative ways to reuse it and to give them a new life. One lovely and creative idea about how to reuse old things at home is our idea about how to reuse the old ladder. Probably, you have heard some of it, you can use the ladder as a closet, as a vertical garden.
If you want to know more creative ideas, please pay attention to the following photos. Find the old ladder in your garage and give a new life to the same. For more ideas about creative storage at home, follow this link that leads you to the most amazing under the stairs storage idea.
Hang your clothes on an old wooden ladder
Be creative and solve the problem with clothes organization. Hang your shirts and coats on the old wooden reused ladder. Find inspiration in this photo and copy the style for your own house place.
Reuse the old ladder and create shelves
If you spend a little time in reusing the old things you have at home, you can organize the flower pots, the books and the shoes. All you need for implementing this idea is an old ladder. Organize thee all the things you have at home and you can't find another suitable place for that.
Indoor lighting with repurposed wooden ladder
Bring the light in an indoor place with an absolutely great design. Reuse the old ladder for doing amazing home decor like this one. Follow the link below this photo for more information.
Storage shelves for kitchen stuff
Perfect idea to organize the kitchen stuff and kitchen tools. Now, you won't have a problem with the home organization but you will have amazing ladder storage shelves. This is the thing that every person should have at the kitchen place.
Do it yourself vertical garden of an old ladder
Find a suitable place for your flower pots. Reuse the old ladder, clean it, paint it with blue colour and organize thee all of the flower pots you have at home. Now, you will have a cool and organized garden that you can add it indoor or outdoor.
Creative idea to organize your shoes
Perfect organization to all of the shoes you have at the house. Give new life to the old ladders and at the same time organize the shoes you wear every day. Find inspiration in the photo below and think about making this craft at home place.
Elegant bathroom design with an old ladder
Create an elegant look in the bathroom place by adding a wooden ladder. Find motivation in the photo below and copy the style for your own house.
Hope you found amazing ideas for your own house place. From now, save the old things and reuse it in creative ways. Thanks for your attention and share the ideas with your friends!