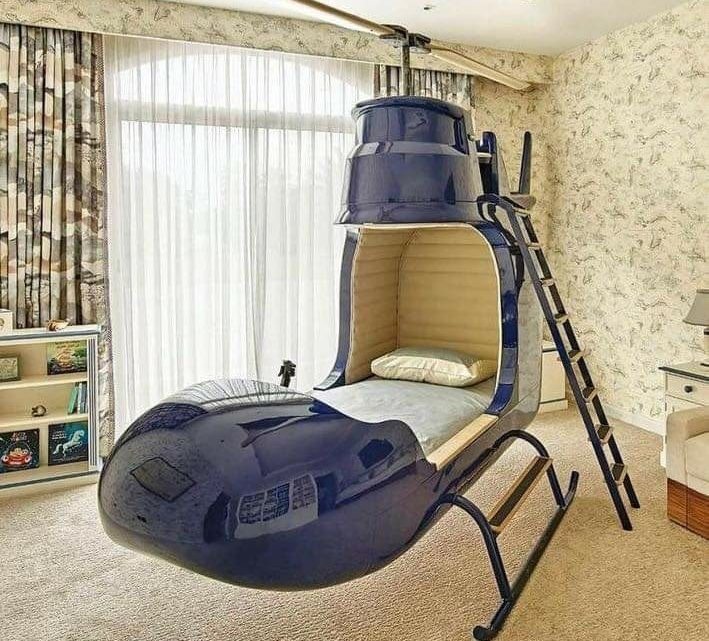 Creative Kids Bed For Little Ones
Those little ones, those children, small and innocent, so loved, those that are the most important people in our life – those deserve to have the best design in their room. Those are our kids! Even if this might be a hard job for parents every child deserves to sleep on the best bed. Stay with us for some time to check these creative kids' beds for your loved children!
Also, check how to do the best tire reuse and make the best garden decor in your free time.
Creative kids bed – helicopter bed
What a great idea for boys and their room. What you see in the first photo is helicopter bed and something that boys will surely love to have in their room. Take a glimpse in the photo that follows now but also save some time to see the other photos.
Camper van bed for little girls
There we are an idea for your daughter too. She will surely wish to have a bed like this. Show the photo idea to your daughter and together make the best decision.
Bulldozer plan bed for your kids
And the third idea is again for boys. If you have little son, this will be something to copy for his room. First, ask him for an opinion because later you can have big problems. However, your child will sleep in the room, not you!
Kids bed design idea
And there we are to the special photo and design of our post. This is something that can be used as a bed and playground in the same time. The design is neutral, either for boys and girls.
Now you know that our page offers the best ideas about your interior and each room of the house. Thanks for your time and keep following us in future for more ideas.