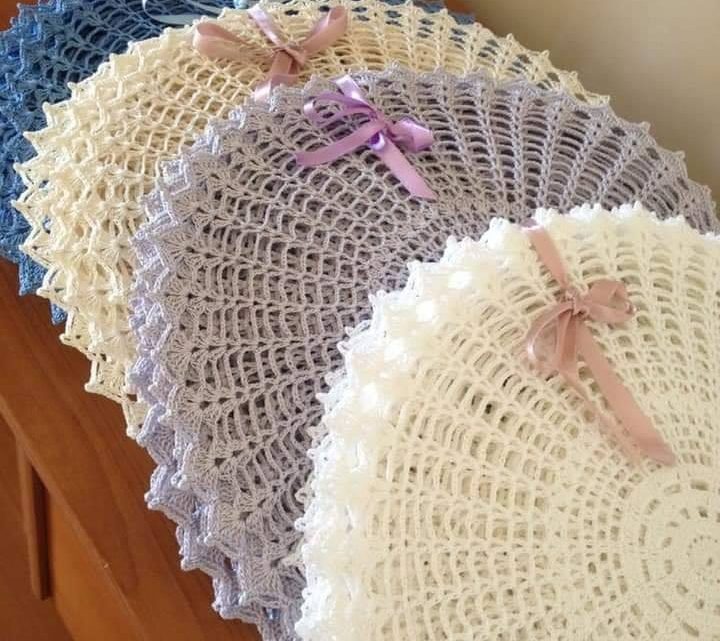 Cool Crochet Table Placemat Ideas
In the past, our grandmother were so creative and they had no choice unless to make a crochet table place mat because in that period they had no option to go into the store and buy it. Some of the grandparents had learned their nieces to make this things and that's how we can still see the crochets available in the stores! But have you ever asked, how much effort and patience a person need to make this decorative element? For making this craft you will need a lot of free time, patience, material, idea. So, we must appreciate the effort of creative people and never saying that the price of these crochets is so expensive!
My dear friends, I invite you to stay with us and to see the following cool crochet table placemat ideas! Spend your free time in quality way and make something to love it!
White crochet table placemat – nice covering for coffee table
If you thought that this is an old-fashioned idea for covering the coffee table that is part of the living room this photo will ensure that you are completely wrong all the time!
Colorful crochets – good idea for your home
Bring the vividness in your house place with colorful crochets that is the second idea of this post. Check also the next photos that follows to see more ideas.
Do it yourself crochets in different colours
Beautify the dining table by making crochets in different colours. Make it in blue, red, pink, green or any other colour depending on material you have. Plase also check the link below the photo to see more creative ideas.
Crochet doilies – nice placemat for the plates on the dining table
This is the greatest idea of the post and you will see how great it looks when you add the crochet doilies on the dining table and then you add the plate on it. What you get with this? With this, you get modern design and clean table!!!!
Modern crochets made by the hands of creative people
For those who think that this is something that gone with the past let me tell you that this is so modern and contemporary now because the fashion is coming back. To conclude with this photo, those who know how to make this crafts will know how to make their interior modern and good looking and for those who don't have an idea how to make it, we offer you the chance to learn it! Please follow the instructions below this photo and learn in a few minutes! Be patient and make this thing for your table!!!
At the end of the post like always we want to THANK you so much for the time you are spending on our website because you are our favorite readers! Also, follow this link that will take you to the last post shared on our website and it's about modern home lighting!