Bunk Beds You'll Love
In our kid's rooms sometimes it is hard to see tidiness around. Usually, the bed is undone, the toys are on the floor and there is such a mess. To avoid a mess like this, you will need a bunk bed. Stay with us to see our offers about bunk beds that you will surely love at the very first view!
CHECK OUR LAST POST SHARED YESTERDAY: Beauitful wedding decorations for people with style.
Pink bunk beds are a cool idea for the girl's room
The pink color is the most favorite color to almost each girl, so if you choose this bed to be part of your little girl's room, you will be the happy parents with happy children! Aren't we happy when they are happy?
White bunk bed for saving space in the kid's room
A white bunk bed will be a great option if you don't want to have the oink colored bunk bed in the room. Draw some inspiration in the following photo and consult with friends.
Bunk bed and playhouse – two in one
Kill two birds with one stone while choosing to have a bunk bed and playhouse at the same time. All this to be added in the kid's room to save space and to keep the room clean all the time! And also, to keep the children busy! Come on, pay attention to the photo now and choose the best for your children!
Bus and bunk bed – unique idea
If you want your child to have unique room decor, choose this decor for its room. Choose a bus bed that will be the best element of their room. Take a look in the next photo from the post and consult with your children to choose the best of the best bunk beds!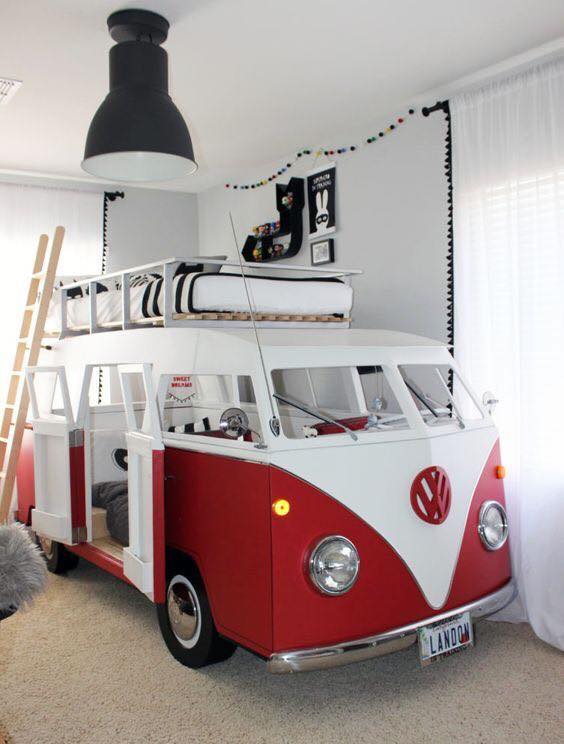 Thank you so much. For what? For being a faithful followers, for reading our posts carefully and sharing with friends! Keep doing this!