Beautiful Births to Decorate this Christmas
Hey friends. Due to Christmas time, in this post, we will show you beautiful births made out of old and reused pallets.
Also, read about how to wear black clothes with an aim to look elegant and stylish woman. But first, take a look at these stunning ideas and try to make some of them in your free time!!!
Beautiful births idea made out from reused pallets
With pallets, ornaments, lights, and figures of Jesus, his family and animals that they were keeping there. Sheep and goat figures, a few Christmas trees are enough to create one amazing and special place that will be the focus in your home.
Amazing birth with Christmas theme
The best thing is that you can make this craft with your own hands. Scroll down and see the second idea from the post where you can also chance to see nice things and something you can make with your own hands and in your free time.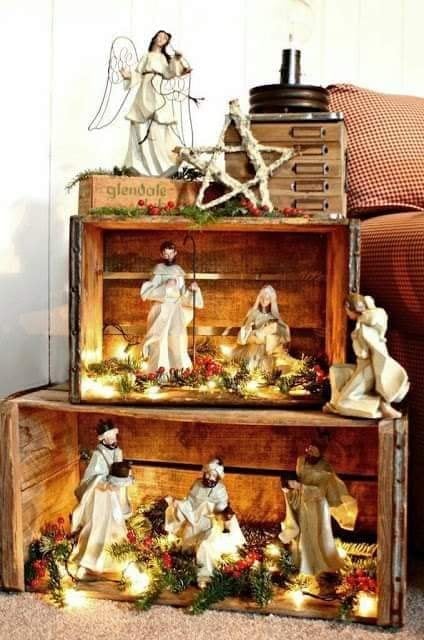 Be creative and make perfect reuse of the wooden pallets
In the third photo, we have again birth that is made by someone that is so creative. Take a look in the photo now and learn how to make the same craft in your own home place. Enjoy and don't forget to share with friends!!!
Special craft made in the best period of the year
Take a look at the next photo and find an idea for your free time. Make this and make the best period of the year decorated with the best crafts there in your interior.
Pallets combined with lighting fixtures look so nice
Also, take a look at the last photo from this post that is again about pallet reuse and lights and figures. I hope that you already have some ideas in your mind and you will do this in your free time!!!
I hope that this post and ideas that were shown in it were so inspiring for you. Keep following us in the near future and find something useful and interesting for you and your free time!!! Thanks for your time!!!