Attractive Wall Decoration Ideas
Today, we had a post about how to cover the windows in your home with the choice of the best curtains, but if you have missed the post, click here and read it. And now, we will continue our job and we will give you ideas about how to decorate the blank house walls in easy and cheap way and what is the most important is to decorate it in your own way.
So, spend some time my dear friends to see the following attractive wall decoration ideas, ideas that we love to show you and to isnpire you.
Peel and stick wall panels – idea to decorate house walls
Our first idea is about how ti fix the house walls and to decorate it in the best possible way. Here you can see attractive wall decoration ideas, decorate the walls with peel and stick.
TV wall panels for authentic look
If you want to have authentic TV wall unit, you can use the design like this, to copy the style and to have the best decor in living room. Take a look in the photo now, follow the link below the photo and see the project.
Creative wall panel with lighting
As I mentioned previously in this post, wall panels are always one of the best choice we need to decorate the house place and the lighting plays also an important role here. I invite you to see this project that can be somehow a do it yourself project and you can make it at home.
Let's have a look in the final result
In this photo you can see the final result of that ow wall panels can look when you will choose to put it on the walls of living room or any other important room of the house.
PVC wall panels for the dining room
You can copy the same design also for the dining room. Here, the wall plays an important role and we all need to choose something that we will love to see each day and each evening when we have dinner with pour family.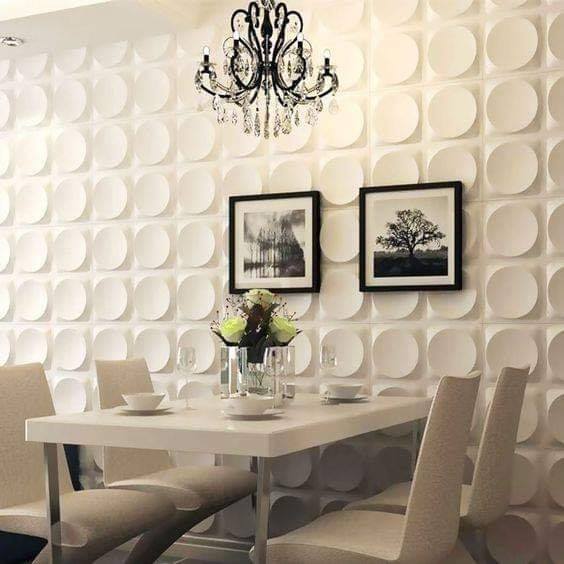 Wall panels with combination of fireplace
As you can see in the photo here, wall panels looks so nice when we make a combination with fireplace. in this way we get something impressive for home interior, we get a room divider and we also get a wall panels which makes the room looking so modern. Take a short glimpse now.
3D wall panel for TV unit in living room
We will finish the post with the full view of the panel for TV units that we all deserve to see. I think that this is enough inspiring to finish this post in creative way. So, thanks so much for reading our posts and we hope that you will keep doing that in near future to find more ideas.