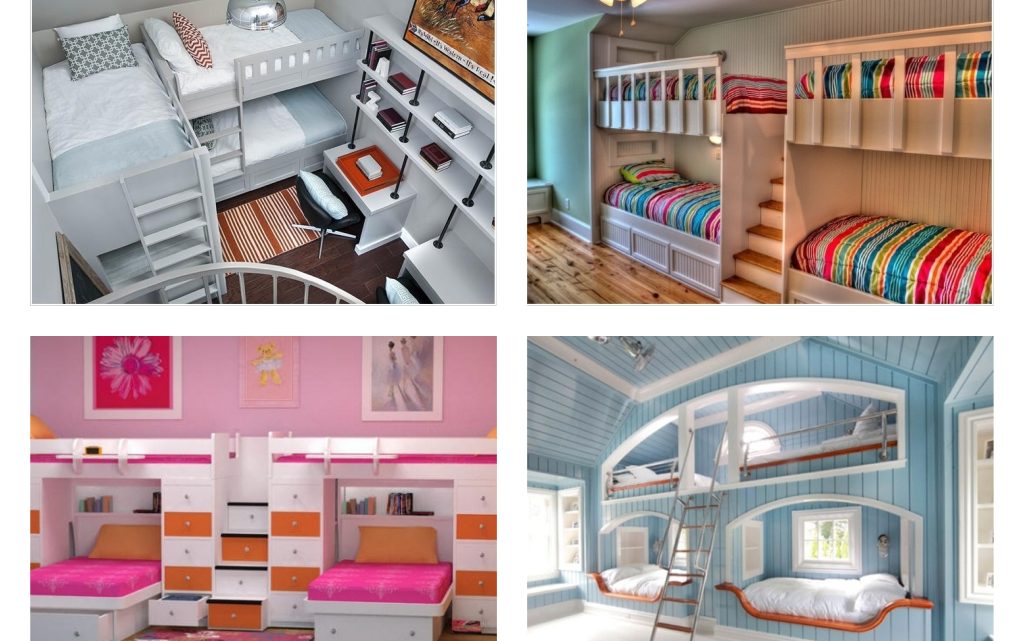 Amazing Ideas About Designing a Room For Four Kids
Those parents who are blessed with two, three or four children probably know how hard is to find a room for each of them. One of the best solutions is to create one room suitable for all kids you have and for this you will need bunk beds with storage. That's why you need to stay with us to the end of this post because we offer you the most amazing ideas about designing a room for four kids.
Room for four kids with a bunk bed with storages
If you are a parent of four girls, there won't be any problem of you, You can choose together the best feminine bunk bed design with stairs and create a perfect room for four kids you have and adore.
Bunk bed with stairs and hidden wall lamps
If you have two boys and two girls the best solution is to choose neutral colours and this design in the photo will be good enough for them. Wall maps are great ideas because they provide enough light for reading a book and studying. About the storage shelves, we need it in almost every room of the house.
How to add four beds in a tiny kids room
Even the small room can be transformed for a room even for four kids. Come on, scroll down and check this photo which will be the biggest inspiration for you and you will find an idea about how to design the future kids room.
Create a kids room in the attic place
If you live in a small house doesn't mean that you have a limit for having a one or two kids. You can have even four kids if you are smart and you think about reusing the attic rooms into creating one perfect room for your loved kids. Find inspiration in the photo below.
Blue bunk bed design for four kids
Well, your kids will surely love this design of a bed for the four children that you have. Especially if you have four boys, they will be satisfied with this decoration idea in blue colour.
Multiple designs of a bed for four kids
When your kids are small everything can be easy, you can have only one room for all of them it doesn't matter if you have one, two or three kids. Take a look in the following photo and find inspiration for your house place.
Bunk bed with storage shelves solution
Be a smart parent and choose the best desgin of a bed for your house place, for example, choose the bed shown in the photo below. This is the last photo of this post and here we must say GOODBYE to you, but keep following our website and also read about the best ways of adding yellow accent in the living room, a post shared recently on our amazing website.