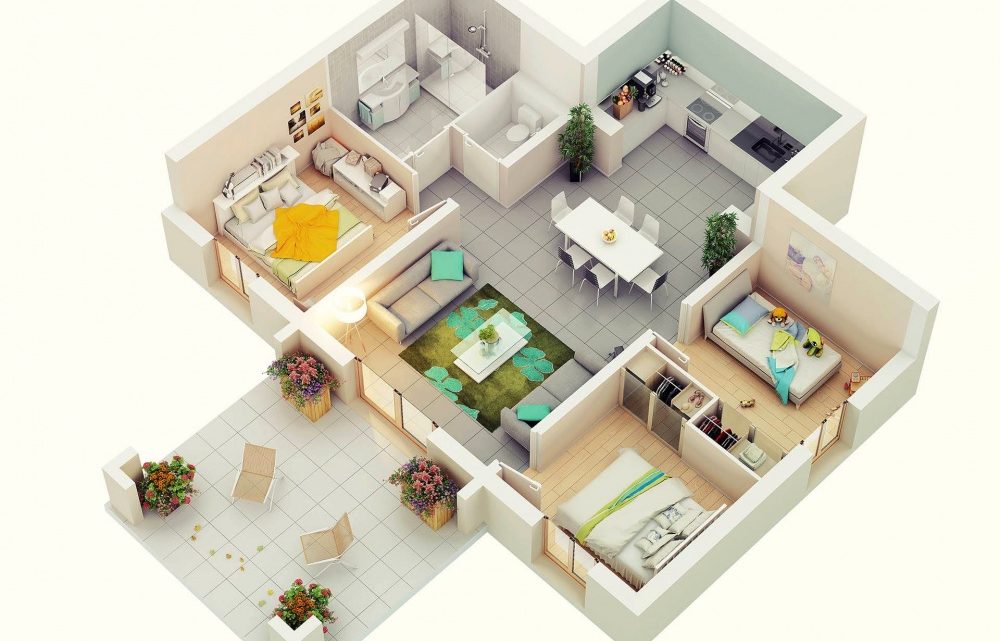 Design Your Future Home With 3 Bedroom 3D Floor Plans
If you are selling the old house, moving to a new house, you need one of the following 3D floor plans. Not everyone has an opportunity to buy a modern floor plan for itself. That's why we decided to show you 3 and more than 3 bedroom 3D floor plans. In the following images, you may see houses arranged by famous architects and designers.
Take a short glance at this absolutely great ideas. We've chosen the plans to inspire you. Your task is to choose which one is suitable for your future home.
3D 3 Bedroom Floor Plan
In this house floor plan is included 3 bedrooms, 3 bathrooms, 1 living room, 1 office room, 1 kids room. Oh, this large house finds a place for large family. Admirable organization of rooms and perfect design for living contemporary life.
Modern Design of 3D Floor Plan With 3 Bedrooms
This house is designed by famous architects and designers. Let's describe in short about room organization. There are 3 bedrooms, 1 living room, 1 dining room, 1 kitchen, 1 large terrace. Maximal usage of interior space and contemporary design. We must all agree with this. Choose this plan to visualize your future home.
2 Bedroom 3D Floor Plan
Let's see something different from the previous two images. In this plan, we have only 2 bedrooms, 1 kitchen, 1 dining room, 1 private room, 1 office room, 1 toilet. The larger space is given to the terrace place. People who enjoy seating in outdoor areas, definitely need this plan when building a new home.
2 Attached Bedrooms Floor Plan + One More Bedroom
As we can see, in this house there are 3 bedrooms. 2 of it are semi-attached and 1 is separated. Another plus is 1 toilet,  laundry, 1 kitchen place, 1 dining room and 1 living room. Living room, kitchen and dining room is open space. Smart idea to save space at home.
3 Bedroom Modern Floor Plan
This is exactly the same idea as the previous image. 2 attached bedrooms, 1 separate. 1 bathing, 1 bathroom, 1 kitchen in open space. In addition, there is a living room, large terrace for staying in.
Interesting Home Design Shown in 3D Floor Plans
Here is one different but unique house design. Small space including only one bedroom with Tv wall, one living room. Additionally, there are 1 laundry room and bathroom. The space for a terrace is small but enough for a couple. Unique idea to maximise the space.
I hope you found these ideas interesting. It might help you to design your future home. In case you are moving into a new house, building a new house or buying floor plans, don't miss it out! But, if you already have a home and having no idea how to clean it, we are here for you. Follow our website and find out how to create and clean a house design, in near future! Thanks for your attention!