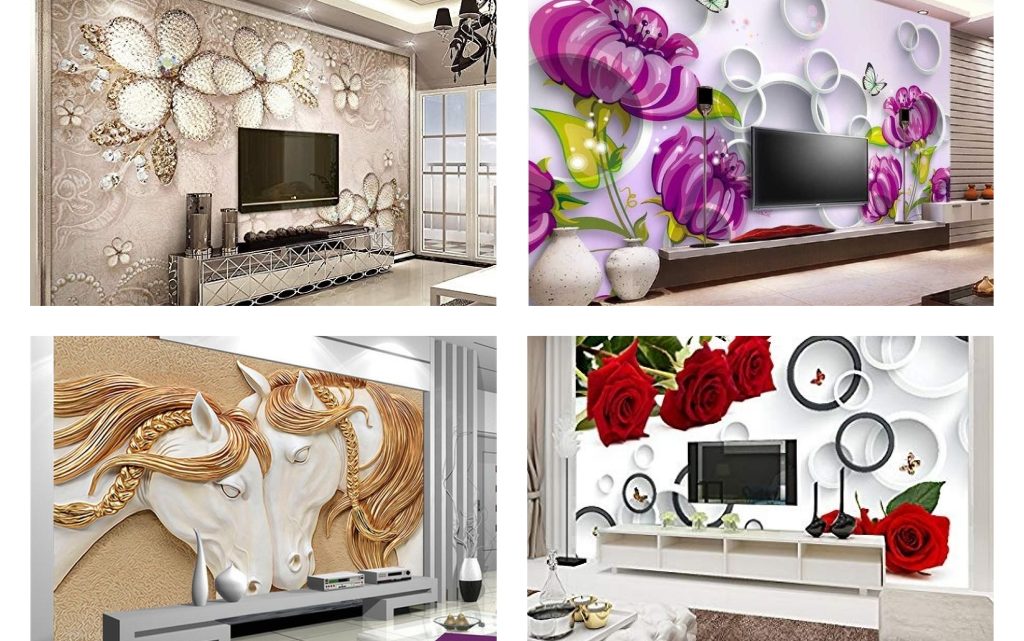 10 3D Wallpaper TV Stand to Leave an Impression
I don't think that is a smart idea to leave your house walls blank and empty when you can buy 3D wallpaper and to create the best TV stand. Be smart and choose smart, save on money and buy cheap wallpaper and create stunning house walls. The best thing about adding this type of wallpaper for your house walls and 3D stickers is that you can replace it easily and to add other design. Hereinafter you can see impressive unicorn wallpapers, flowery wallpapers, geometric wallpapers in different colours. Choose your favourite colour and design and order the wallpaper below the link on the photos below.
Unicorn 3D wallpaper for any wall of your house
For the beginning of this post, I've chosen to present you beautiful wallpaper with unicorns. Unicorns are the symbol of happiness so bring the happiness in your house! Take a look and think about how this will suit your house walls.
Fill the blank TV wall stand with flowery wallpaper
Don't be afraid to add flowers to the walls of your living room. These flowers will leave an impression on every guest which are entering your house and also to you and your family.
Add purple flowers on the TV stand wall
Our living room is the most visited room in the house and we need to choose a modern and suitable design.
Feel the nature with refreshing wallpaper in 3D
Refreshing 3D wallpaper will make you feel good in your living room.
Pink flowers on the TV stand wall is the thing you need it
Don't be sceptic about adding pink flowers on the walls of your house, find inspiration in the photo below and copy the style for your house place.
Impressive look of TV stand wall
Never leave your house walls blank and simple, but choose a modern design that you will admire every day.
Combine gold and pink colours for living room wall
Make the best decoration for the TV stand wall and enjoy in the design seeing it every day.
Add a lot of circles in your living room wall
Enjoy in the look of circles placed above the TV where you spend a lot of time of the day.
Gold and white combination for your living room wall
Don't be afraid to make a combination of gold and white colours for the wall of your living room. Draw inspiration from the photo below.
Gold and flowery wallpaper in 3D
And this is the last of the total 10 wallpapers that will beautify your house walls. I hope that you've found some inspiration for your sweet home. Thanks for your attention and keep following us for more information about how to design your home in the cheapest way. If you still have extra free time, check our post about glass stairs lighting ideas for interiors.